12.3.21 Advocacy Alert: NYS Agencies Will Add Small Biz Liaisons
Governor Kathy Hochul recently signed legislation that will create "small business liaisons" at five key state agencies.  
The position will be created within the Departments of: 
Agriculture and Markets

 

Environmental Conservation

 

Labor

 

Transportation

 

Taxation and Finance

 
The liaisons, who must be existing agency employees, are tasked with: 
Serving as a direct point of contact for small businesses

 

Providing basic information on the agency & regulations

 

Helping businesses navigate the agency and find correct points of contact

 
This legislation will help small businesses navigate state bureaucracy. The BNP submitted a memorandum in support of this legislation in February.  
The BNP thanks Sen. George Borrello, Sen. Ed Rath, and Asm. Michael Norris for co-sponsoring this important legislation.  
We will share with you the contact information for each liaison once appointed.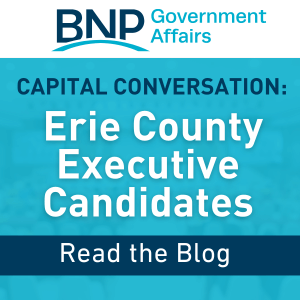 In preparation for the 2023 elections, the BNP hosted an Erie County Executive Candidate Forum. Both candidates for Erie County's highest office – incumbent Mark Poloncarz and challenger Chrissy Casilio – were given 45 minutes to address BNP members in a guided discussion.