10.15.21 Advocacy Alert: NYS Dept. of Labor Releases New Adult Use Cannabis & the Workplace Guidance 
The New York State Department of Labor (DOL) released a guide to help employers answer questions related to the new Marijuana Regulations and Taxation Act (MRTA). Earlier this year, the MRTA officially designated cannabis as both a legally consumable product and a lawful recreational activity for adults.
View NYS DOL document here.
The new guidance provides information on permissible employer testing, policies, and disciplinary actions for employees that are observed to be under the influence on cannabis. The document also addresses common situations and questions for employers trying to navigate this new law and adjust current workplace policies.
The BNP will continue to update members on new MRTA guidance.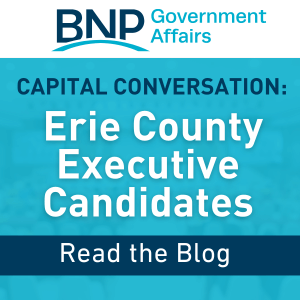 In preparation for the 2023 elections, the BNP hosted an Erie County Executive Candidate Forum. Both candidates for Erie County's highest office – incumbent Mark Poloncarz and challenger Chrissy Casilio – were given 45 minutes to address BNP members in a guided discussion.