State Releases HERO Act Safety Standards
Today, the New York State Department of Labor published its Airborne Infectious Disease Exposure Prevention standards as mandated by the NY HERO Act. These exposure controls apply during a disease outbreak as designated by the Commissioner of Health. Governor Cuomo lifted the COVID-19 state of emergency on June 24, so no designation is in effect at this time.
The general standards are available here. A model airborne infectious disease exposure prevention plan is available here, and industry-specific templates can be found using the links below:
Any updates from the state will be posted on the Department of Labor's HERO Act page.
Employers need to adopt a prevention plan within 30 days of these model standards being published, and must then provide a copy of their safety plan to employees within 60 days of publishing.
The BNP recently hosted a webinar called "What Employers Need to Know About the NY HERO Act," featuring expert advice from Barclay Damon. The presentation can be viewed here, and the slides are available here.
The HERO Act also mandates the creation of workplace safety committees. However, that portion of the Act does not take effect until November 1, and the state has not yet released regulations regarding workplace safety committees.
Stay tuned for upcoming events the BNP will host to help you understand and implement these standards.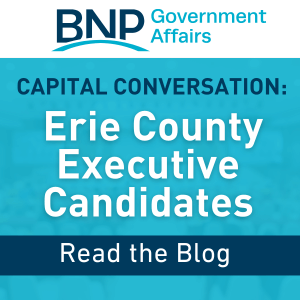 In preparation for the 2023 elections, the BNP hosted an Erie County Executive Candidate Forum. Both candidates for Erie County's highest office – incumbent Mark Poloncarz and challenger Chrissy Casilio – were given 45 minutes to address BNP members in a guided discussion.