BNP Advocacy Insider – May 2021
Gov. Cuomo Signs HERO Act with Amendments
Last night, Governor Cuomo signed the HERO Act (S.1034/A.2681) into law. This bill sets strict workplace disease prevention standards in an attempt to minimize the spread of any future airborne virus. As you know, the BNP opposed this legislation because it was duplicative, burdensome, and unnecessary for employers. Throughout the pandemic, employers have acted quickly, listened to public health guidance, and adjusted their operations in real time to protect their workers. Employers have shown they are up to the task of applying public health guidelines and keeping their workers safe, but the state has responded by handing down a new list of regulations.
However, the enacted version of the bill was not as burdensome as the original would have been. After the HERO Act passed the Legislature and it became clear a veto would not happen, the BNP strongly advocated for amendments to the bill that would remove some of its most burdensome provisions.
One concern the BNP raised to the Governor and legislative leaders was with the bill's private right of action, which would subject employers to civil liability for violations of this law in addition to state penalties. After BNP highlighted this issue, the Governor and Legislature agreed to an amendment to this bill that gives employers a window to "cure" violations before they can be subject to civil liability.
Although the BNP maintains that this bill was not necessary, we are pleased that our advocacy was able to soften the blow it would strike to employers in our state. Stay tuned for additional information.
It Is Time to Reopen the Border
The BNP has called for the reopening of the U.S.-Canada land border for non-essential travel. Businesses in both nations have suffered from the loss of cross-border traffic, and reopening to non-essential travel would stimulate the economies of Southern Ontario and WNY. The BNP called on the American and Canadian governments to agree to a reopening plan that protects public health as soon as possible.
Learn more about the BNP's border efforts HERE.  
Endless
Frontier Act Could Create Opportunity for BN Region
The Endless Frontier Act, sponsored by Senator Chuck Schumer, would present significant opportunities for our regional and national economies. The Act would make significant investments in innovation and technology that would strengthen our supply chains and numerous industrial sectors. Additionally, the bill would establish and invest in 10-15 regional technology hubs, which would be transformational for the Buffalo Niagara region if located here.  
The BNP supports the Endless Frontier Act and submitted a memo in support to our federal delegation.
Upstate United Releases "

Taxed Out

" Report

 
A new fact sheet from our partner organization Upstate United examines the historic tax hikes in this year's state budget. These increases make our region and state less competitive and exacerbate our outmigration problem. The BNP opposed these increases and will continue to fight for tax policy that strengthens our regional economy.   
New York's Outmigration Woes Continue
Last week, the U.S. Census Bureau announced that New York will lose a Congressional seat, the culmination of a decade of outmigration. A recent Upstate United report analyzed this concerning trend. The report notes that, "over the past decade, 1.4 million New Yorkers have fled to other states," often moving to low-tax states like Florida. The BNP is urging lawmakers to prioritize this crisis and reverse this outmigration trend. 
Eviction Moratorium Extended
This week, the State Legislature passed S.6362/A.7175, a bill that extends the state's eviction moratorium from May 1 to August 31. Governor Cuomo is expected to sign the bill soon. This measure applies to all residential tenants and commercial tenants with fewer than 50 employees. The bill does not forgive or "cancel" rent owed, but instead imposes a temporary ban on the eviction of tenants for failure to pay rent. The BNP has advocated against this extension and is urging the state to immediately distribute the $2.3 billion it received in federal Emergency Rental Assistance to provide needed relief to tenants and landlords.  
New York Can

no

t Afford Extended Producer Responsibility Act
The BNP has opposed the Extended Producer Responsibility Act because of the significant costs it would place on employers and consumers. A new study illuminates just how steep those costs would be. The study found that the EPRA would add over $800 million in direct costs to producers, $2-4 billion in additional costs to the NYS economy, a 4-6% increase in the cost of a "basket of goods," and a $36-$57 increase in monthly grocery bills for a family of four. New York's businesses and families cannot afford this legislation.  
Learn more and join the opposition HERE.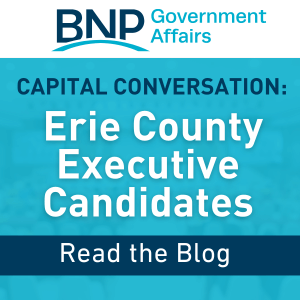 In preparation for the 2023 elections, the BNP hosted an Erie County Executive Candidate Forum. Both candidates for Erie County's highest office – incumbent Mark Poloncarz and challenger Chrissy Casilio – were given 45 minutes to address BNP members in a guided discussion.