BNP Advocacy Insider – August 2022
Congress Moves on Chips, Climate, Healthcare
After a year of negotiations, Congress progressed on two major pieces of legislation. One package, which President Biden is expected to sign into law next week, will make significant investments into semiconductor manufacturing, research, and innovation. A key Senator also voiced support for a larger climate and healthcare spending package, which will be debated heavily over the next few weeks. Learn what it means for our region on our blog. 
Momentum Grows for Action on Unemployment Insurance
The BNP has warned for a year that heightened UI premiums were forthcoming. Now, employers are receiving steep bills and feeling the pain of New York's inaction. The state had previously ignored the BNP's calls for action to avert this crisis.  
However, the tide may be turning. Members of the Assembly Majority recently voiced support for state investment to offset rising UI premiums.  The Senate Minority Conference has also been vocal about the need for action. As the Legislature continued to discuss this issue, the BNP will keep you informed.  
In the meantime, let the BNP know how much your UI premium has increased, so we can share your story with policymakers.  
Worker
s
'
Compensation Package Would Send Costs Higher
In the 2022 legislative session, the Legislature passed numerous bills related to workers' compensation, which now await Gov. Hochul's review. While each bill may have merit on its own, the bills collectively would vastly increase the state's workers' compensation costs, leading to higher premiums for employers. The BNP asked Gov. Hochul to consider this impact and veto the package of legislation. Read the BNP's letter here. 
BNP Asks Hochul for Vetos
The BNP asked Governor Hochul to veto numerous bills that passed this session that would be harmful to our regional economy. During a time of high inflation, employers cannot afford legislation that would send their costs even higher. Read the BNP's veto requests here.  
BNP, Business Orgs Urge State to Skip Contractor Registration
A bill passed by the Legislature this year would require contractors and subcontractors engaged in public work to enter a state registry. This legislation would add barriers to competitive bidding, making public work more expensive and reducing business opportunities. The BNP and many other business organizations called on Gov. Hochul to veto this bill. Read the joint letter here.  
BNP to Trudeau: Scrap the App
The BNP recently wrote to Canadian Prime Minister Justin Trudeau regarding Canada's continued use of the ArriveCan app for border crossings. As cross-border traffic remains well below pre-pandemic levels, it is clear that the app is deterring commerce and tourism. The BNP and the Greater Niagara Chamber of Commerce (Ontario) asked the Canadian government to forego use of the app and relax border crossing restrictions. Read the letter here.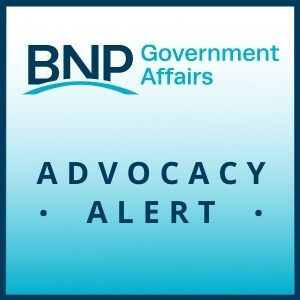 The State Senate and Assembly Majorities released their one-house budget proposals. Although the proposals are not yet law, they give a clear indication of how negotiations will go before the April 1 budget deadline.