5.31.22 Advocacy Alert: What to Expect as Session Nears Finish
The New York State Legislature's last scheduled session day is Thursday. As lawmakers prepare for elections in November, we expect a busy week of legislative activity. As the Legislature nears the end of session, here are the issues the BNP expects them to tackle: 
Gun Control. In the wake of May's mass shooting in Buffalo, Gov. Hochul has vowed to pass numerous gun control measures. These include raising the age to purchase semiautomatic guns from 18 to 21, strengthening the state's "Red Flag" law to allow better intervention when an individual shows troubling signs, and requiring handguns to "microstamp" identification numbers on bullet casings to better identify perpetrators of gun crimes.  
Abortion. After the unprecedented leak of a draft Supreme Court opinion in Dobbs v. Jackson Womens' Health Organization, it is expected that the Court's Roe v. Wade precedent will be weakened, making the legalization of abortion a state issue. In anticipation of the Dobbs decision, Gov. Hochul and Democratic leaders have pushed legal protections for abortion in New York State, including numerous legal protections for abortion providers and women choosing abortions. Some lawmakers have also proposed a fund to assist non-residents who travel to New York to get an abortion.  
Climate. The state is considering numerous climate-based proposals. The All-Electric Buildings Act would ban new natural gas hookups. The new Climate Change Superfund Act would charge fossil fuel companies $30 billion dollars as a penalty for past emissions. The Legislature is also considering a two-year moratorium on cryptocurrency mining due to energy usage concerns.  
Extended Producer Responsibility. The Senate and Assembly have been divided on how to approach the sweeping recycling reform, but legislative leaders continue to negotiate on this bill.  
Economic Development Transparency. Good-government groups have pushed a number of economic development reforms, including ending the state's Opportunity Zone credits. Also, the Legislature is considering strengthening the Comptroller's authority over state contracts and preventing nondisclosure agreements from state and local contracts.  
The BNP remains in frequent contact with legislative leaders, and will keep you informed of important legislative updates as the session closes.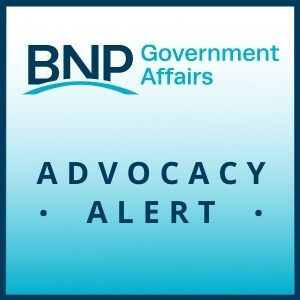 All eyes are on Albany as the Legislature enters the final two weeks of the 2023 legislative session. Amid the hundreds of bills that will pass in the coming days, the BNP is keeping an eye on the following issues: