3.31.22 Advocacy Alert: State Budget to be Late
New York State is poised to miss its budget deadline. The budget is due when the state's fiscal year begins at midnight tonight. However, lawmakers are returning home tonight without a deal, and they plan to reconvene in Albany on Monday.  
Over the weekend, Gov. Hochul and legislative leaders will continue negotiating the most contentious issues. Sticking points include: 
Bail and discovery reforms

. Bail reform is the #1 issue, and it has dominated negotiations this week. Governor Hochul has proposed tweaks to the 2019 criminal justice reforms after the state has seen an increase in crime, but many Democratic legislators have sharply opposed amendments.  One Assemblymember is on her 10

th

 day of a 

hunger strike

 to protest making changes to the bail law. 

 

Bills Stadium. 

Gov. Hochul's announcement of a historic deal to keep the Bills in Buffalo complicated negotiations because it came just four days before the budget is due. Hochul also 

announced

 that about 70% of the state's contribution would come from the Seneca Nation casino's payments to the state – revenue generated in the Buffalo Niagara region. A handful of NYC-area legislators have decried the deal, but debate continues on how exactly to finance the state's contribution. 

 

Gas tax.

 With soaring inflation and steep gas prices, there has been momentum behind a proposal to suspend the state's 48-cent/gallon tax on gasoline. Hochul has been 

hesitant

 to embrace the concept, but there may be enough bipartisan support to make it happen. 

 

Downstate casinos. 

State leaders are poised to approve licenses for three 

casinos

 in the New York City area, but the complicated details are still being ironed out in negotiations. This issue will not affect Buffalo Niagara, since the state's compact with the Seneca Nation prohibits state-authorized casinos west of Geneva. 

 

All-electric buildings. 

Some legislators are pushing a proposal to mandate that most new buildings be 100% electric powered by 2024, effectively banning new natural gas hookups. Many groups, including the BNP, have raised concerns about the practicality of such an aggressive move and timeline, and the Legislature appears divided on this issue. 

 

Kendra's Law.

 A 1999 law allowing for involuntary psychiatric treatment for mentally ill individuals is set to expire this year. Debates over program reforms have complicated the renewal effort. 

 
Although they may not be causing the logjam, the Legislature continues to negotiate many other key issues, such as renewing the Brownfield Cleanup Program and stabilizing the Unemployment Insurance system. To contact legislators about these important issues, visit our Take Action page.  
The state is expected to finalize a budget by Monday. The BNP will keep you informed on what the budget includes once enacted.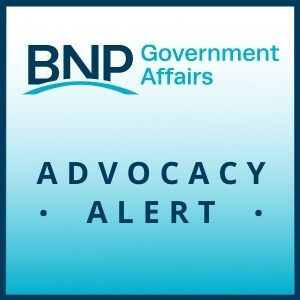 The State Senate and Assembly Majorities released their one-house budget proposals. Although the proposals are not yet law, they give a clear indication of how negotiations will go before the April 1 budget deadline.