In our pursuit of regional prosperity, we are constantly reviewing the new legislative workforce policies to ensure they align with employers' needs, promote economic mobility, and are forward-thinking solutions that address the challenges in our local employment market.
As we look to build a regional economy that works for everyone, you can learn where we stand on key workforce policies and hear how to get involved in our advocacy efforts.
• Provide financial assistance to help people access registered and unregistered apprenticeships, credentialing, and other 'earn & learn' programs
•Extend the Empire State Apprenticeship Tax Credit program
Support passage of the JOBS Act to expand Pell Grant eligibility to students enrolled in quality, short-term education, and training programs leading to employment in high-demand industry sectors or careers.
Support policies to ensure families have access to affordable, reliable, and high-quality childcare.
•Double the maximum annual Pell Grant award to make college more affordable for low and moderate-income students
•Increase Tuition Assistance Program awards and income eligibility for students and families
Bridging the Benefits Cliff
Phase-out income-based benefits gradually to best assist workers advancing into higher-paying positions that eventually lead to economic self-sufficiency and family-sustaining wages.
Creating Opportunities for Reentry
Reduce legal barriers to employment for formerly incarcerated individuals
•Support refugee resettlement in Buffalo Niagara
•Support comprehensive H-1B visa reform that increases the number of high-skilled visas issued and allows Buffalo Niagara to compete for top talent
•Create a place-based visa program allowing holders to compete on the open labor market in designated low-growth regions of the country – like Buffalo Niagara – to infuse skilled immigrants to help reverse demographic decline and revitalize local economies
In addition, the BNP has taken the following advocacy positions on behalf of employers, job seekers, and the goal of strengthening our regional economy: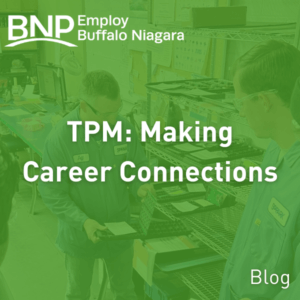 The Buffalo Niagara Partnership continues to expand our Employ Buffalo Niagara Talent Pipeline Management (TPM) program, connecting hiring employers to regional job seekers. The Talent Pipeline Management program is a 1-2 year workshop that brings companies with similar job needs together, sharing their common talent pain-points, communicating new industry expectations and addressing