How can we connect a job seeker to an employment opportunity that can lead to a long and rewarding career?
All employers are trying to answer this question as quickly as possible. The national labor shortage, which is impacting industries from manufacturing to healthcare, is holding back our collective recovery from the COVID-19 pandemic. The hiring challenges that existed before March 2020 are now compounded and more complex, and new solutions are needed to keep Buffalo Niagara's economy moving forward.
A solution can be found in the specific details. Through assistance from the Ralph C. Wilson Foundation, the BNP is launching the Career Pathways project as a key component of Employ Buffalo Niagara. Currently, our team is working with a group of eight employers and looks forward to expanding the program further in 2022.
Participating employers: AAA, Zehnder-Rittling, Tapecon, SoPark, Maclean-Fogg, Independent Health, Tesla, Kaleida Health
Each career pathway will connect job seekers to an entry-level position, clearly outlining the amount of time and training needed to advance through the company. In addition, web-based videos will introduce current employees that have built a career at each company, giving a first-person account of obtainable goals and opportunities.
The BNP is partnering with a network of educational and community-based partners to ensure that our career pathways reach a large and diverse group of job seekers, in support of the region's short-term economic recovery and long-term growth.
Please continue to visit the Employ Buffalo Niagara web page for updates.
Zehnder Rittling | Manufacturing Support
AAA | Roadside Assistance Technician
SoPark | Solder Machine Operator
Employers that are interested in learning more about this project are encouraged to visit the Career Pathways webpage and to contact Seth Piccirillo, Director of Economic Development, at spiccirillo@thepartnership.org.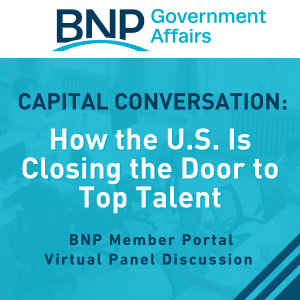 The BNP organized a Capital Conversations event as part of our Government Affairs series to examine the workings of the H-1B program and explore potential reforms that could strengthen our regional economy.