Transportation and Logistics
Buffalo Niagara's location on the Canadian-American border, within 500 miles of 40% of the continental North American population, gives the region significant international trade and commerce advantages. As the American industrial sector looks to modernize and innovate, Western New York's multi-modal transportation network will be critical to international supply chains and the competitiveness of local companies.
Join BNP, and strategic partner the University at Buffalo's New York State Center of Excellence in Materials Informatics, as we bring leaders together to collaborate, strategize and chart the future of transportation in our region.
Interested In Joining or Sponsoring?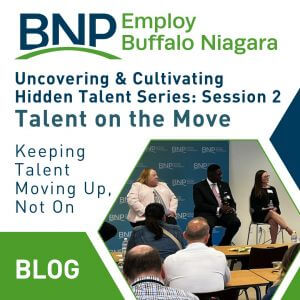 Uncovering and Cultivating Hidden Talent Series: Session 2 – Talent on the Move
Keeping and growing talent is key to any high-performing organization. But what can you do to keep employees from walking out your door for new opportunities?