Development and Construction
Construction and real estate markets and changing, as the lasting effects of the COVID-19 pandemic impact building material supply chains and overall commercial and residential demand. The BNP is focused on assisting our development and construction community navigate economic challenges in order to sustain residential and commercial growth over the past decade.
Join BNP, and the Development and Construction Industry Leaders Forum strategic partners, the Construction Exchange of Buffalo & WNY, and NAIOP – Commercial Real Estate Development Association, as we bring leaders together to collaborate, strategize and chart the future of development in our region.
Thurs., Feb. 9, 2023
8:30 am to 10:00 am
Heritage Room,
Buffalo Niagara Partnership
257 West Genesee Street, Suite 600
Buffalo, NY 14202
Take your seat at the table 
The ILF is a BNP member-only benefit for applicable companies.
Please contact Seth Piccirillo, Director of Economic Development, at spiccirillo@thepartnership.org for more information.
To become a member of BNP and participate in ILF, click here.
Member Participants in the Manufacturing Forum
ABR Wholesalers inc.
Acme Cabinet Company
AdPro Team Sports
Aleron
AMP Interior Construction
Bank on Buffalo
Bonadio Group
Buffalo Black Billion
C&S Companies
Cannon Design
Carmina Wood Morris, DPC
CBRE Buffalo
Ciminelli Real Estate Corporation
Construction Exchange of Buffalo & WNY, Inc.
Douglas Development Corporation
EnergyMark, LLC
First Amherst Development Group LLC
Frey Electric Construction Co., Inc.
Harris Beach PLLC
Hurwitz Fine P.C.
Independent Health Corporation
Iroquois Bar corp.
Iroquois Construction Services
Iskalo Development Corp.
Joy Kuebler Landscape Architect, P.C.
LaBella Associates, D.P.C.
LeChase Construction Services, LLC
Millington Lockwood Business Interiors
Montante Companies LLC
Interested In Joining or Sponsoring?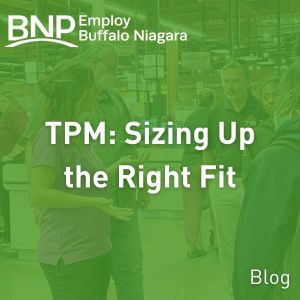 What's it like to work a customer service job at a regional employer with immediate openings? Students from 716 Ministries/Trocaire and the Service Collaborative of WNY found out through a day spent visiting with hiring managers from Univera, National Fuel, Wegmans, and Independent Health.