Small Business
Buffalo Niagara's small businesses are essential to both the future of the economy and the strength of our communities. Small business owners are responsible for a wide and changing range of responsibilities on a daily basis. Collaboration, and the sharing of best practices, will ensure that these businesses are well-represented when important decisions are made.
Join BNP, and strategic partners the National Federation of Independent Businesses and the Western New York Chamber Alliance, as we bring leaders together to collaborate, strategize and support the future of the small business community in our region.
The BNP is defining a small business as one with 25 employers or fewer for the ILF.
Thurs., May 18, 2023
8:30 am to 10:00 am
Heritage Room,
Buffalo Niagara Partnership
257 West Genesee Street, Suite 600
Buffalo, NY 14202
Take your seat at the table 
The ILF is a BNP member-only benefit for applicable companies.
Please contact Seth Piccirillo, Director of Economic Development, at spiccirillo@thepartnership.org for more information.
To become a member of BNP and participate in ILF, click here.
Interested In Joining or Sponsoring?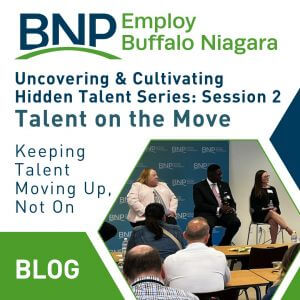 Uncovering and Cultivating Hidden Talent Series: Session 2 – Talent on the Move
Keeping and growing talent is key to any high-performing organization. But what can you do to keep employees from walking out your door for new opportunities?