Manufacturing
Buffalo Niagara's proud industrial heritage is the foundation of our regional economy.  With 1,200 companies in Erie and Niagara counties and nearly 11% of the Buffalo Niagara workforce employed in the sector today, manufacturing will be critical to our future success as well. There are currently new and exciting opportunities for reinventing American industry and innovation and BNP is focused on maximizing local competitiveness in this changing economy.
Join BNP, and Manufacturing Industry Leaders Forum strategic partners Northland Workforce Training Center and Buffalo Manufacturing Works, as we bring leaders together to collaborate, strategize and chart the future of manufacturing in our region.
Member Participants in the Manufacturing Forum
Acme Cabinet Company
Applus RTD
Aleron
Astronics Corp.
Athenex
Bank On Buffalo
The Bonadio Group
Buffalo Manufacturing Works, operated by EWI
Cobey, Inc.
Curbell, Inc. & Subsidiaries
Ebenezer Railcar Services
EnergyMark, LLC
Erie 1 BOCES
FB Displays and Designs
First Amherst Development Group LLC
Harmac Medical Products, Inc.
Harris Beach PLLC
Hodgson Russ LLP
Independent Health Corporation
LaBella Associates, D.P.C.
National Grid
New York Power Authority
Northland
Seal & Design, Inc
Sealing Devices Inc.
SoPark Corporation
Switzer
Tapecon, Inc.
Tectran Manufacturing Inc.
Tesla
University at Buffalo
Welded Tube USA, Inc.
Zehnder Rittling
Take your seat at the table 
The ILF is a BNP member-only benefit for applicable companies.
Please contact Seth Piccirillo, Director of Economic Development, at spiccirillo@thepartnership.org for more information.
To become a member of BNP and participate in ILF, click here.
Thank you to our sponsors
Interested In Joining or Sponsoring?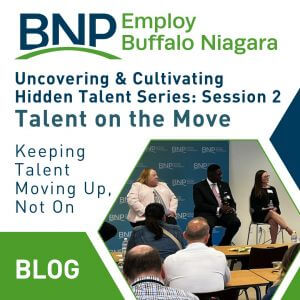 Uncovering and Cultivating Hidden Talent Series: Session 2 – Talent on the Move
Keeping and growing talent is key to any high-performing organization. But what can you do to keep employees from walking out your door for new opportunities?