Introducing Dr. Christine Farrow, finalist for the 2023 ATHENA Leadership Award
For more than 30 years, the Buffalo Niagara Partnership has been honored to produce the ATHENA Awards® to support, develop, and honor women leaders in Western New York.
The BNP is pleased to introduce you to the finalists who have been selected for the 2023 ATHENA honors. This includes the ATHENA Leadership Award®, the ATHENA Young Professional Leadership Award®, and the ATHENA Organizational Award®, which recognizes one for-profit organization and one non-profit organization that inspire women in WNY.
We're highlighting each finalist in the weeks ahead, leading up to the Awards Luncheon. Come back often to read the profiles and you'll learn what it means to be an ATHENA!
Celebrate all of our finalists and see the recipients announced LIVE on March 29, 2023 at the Buffalo Niagara Convention Center.
The Buffalo Niagara Partnership is pleased to introduce you to 1 of 10 finalists in the ATHENA Leadership Award® category 
Meet ATHENA Leadership Award® Finalist: Dr. Christine Farrow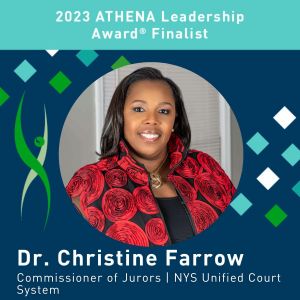 Dr. Christine Farrow is Commissioner of Jurors for Erie County in the New York State Unified Court System. She was appointed to her position in 2021 after serving as Deputy/Acting Commissioner of Jurors. Dr. Farrow is the first female and the first African American to hold the title of Commissioner in Erie County.  
In addition to overseeing jury operations for all courts within the county, Dr. Farrow is also an adjunct professor at the University at Buffalo, where she teaches courses in counseling and psychology and serves as a member of the Rehabilitation Counseling Program's Advisory Committee.  She earned a Master of Science from University at Buffalo, Diversity and Inclusion Certification from Cornell University, and a Ph.D. from University at Buffalo. 
Dr. Farrow is the first ever African American president of the Board of Directors of Big Brothers Big Sisters of Erie, Niagara, and the Southern Tier. She is also a former Little Sister in the mentoring program. 
We asked Dr. Farrow a series of questions to get to know her better.
Career Highlights 
Being the first female, first African American to hold the role of Commissioner of Jurors. 
Best Piece of Advice Given Regarding Her Career 
Never let anyone outwork you. 
Advice to Give to a Woman Just Starting in the Workplace. 
Always be yourself. 
About Being an Athena Finalist 
"To be considered among such amazing women is truly an honor." 
On Buffalo Niagara 
I enjoy living and working in Buffalo Niagara for a couple of reasons: 1. Food 2. Weather (Fall & Winter, with the exception of the 2022 Blizzard.)  
Favorite Spot in Buffalo.  
Taking a walk in my neighborhood. 
Added Insights 
Guilty Pleasure:

Rap/Hip Hop Music

 

Superpower:

Memory

 

My Friends Describe Me As:

Modest, Positive, and Inspirational 

 

If I Could Swap Lives with Someone for a Day, I'd choose:

Nancy Pelosi. I have a secret love for politics and government, and she has been in both for nearly my whole life. She gets things done.  

 
Attend the ATHENA Awards® Luncheon
The ATHENA Awards® Luncheon is the region's most prestigious event recognizing the professional accomplishments of exceptional individuals who are dedicated to the advancement of women. Be there when the recipients are announced:
Wednesday, March 29, 2023
11:00 A.M. to 1:30 P.M.
REGISTER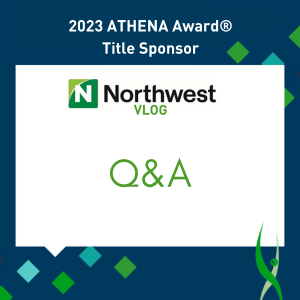 Not only is Northwest Bank the returning title sponsor for the 32nd Annual ATHENA Awards®, but their commitment to women in leadership is reflected in their daily operations.
Learn more in this video Q&A.