ECIDA Creates New MWBE Incentive
The Erie County Industrial Development Agency recently approved a new incentive for MWBE subcontractor utilization, known as the Economic Inclusion Program. 
 To qualify for the incentive, applicants must achieve a 30% MWBE utilization rate (25% MBE/5% WBE) in the construction phase of a project. Additionally, post-construction, applicants must meet a 30% M/W job creation requirement. Applicants must also commit to some post-project initiatives, including MWBE procurement practices, adopting a DEI policy, providing DEI training for staff, or providing mentorship for MWBE businesses.  
Applicants who meet these criteria are eligible for larger and longer tax abatements through ECIDA (see chart below).  

Although a heavy-handed MWBE mandate was initially discussed, the BNP successfully advocated for making this policy an opt-in incentive. 
The full policy is available here. Businesses interested in learning how their DEI strategy can make them eligible for this incentive should contact the BNP's Kenya Hobbs at khobbs@thepartnership.org.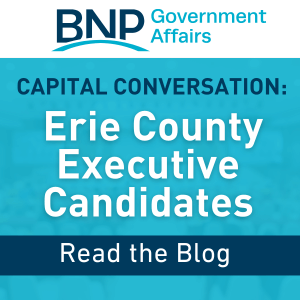 In preparation for the 2023 elections, the BNP hosted an Erie County Executive Candidate Forum. Both candidates for Erie County's highest office – incumbent Mark Poloncarz and challenger Chrissy Casilio – were given 45 minutes to address BNP members in a guided discussion.