Introducing Tyra Johnson Hux, finalist for the 2023 ATHENA Leadership Award
For more than 30 years, the Buffalo Niagara Partnership has been honored to produce the ATHENA Awards® to support, develop, and honor women leaders in Western New York.
The BNP is pleased to introduce you to the finalists who have been selected for the 2023 ATHENA honors. This includes the ATHENA Leadership Award®, the ATHENA Young Professional Leadership Award®, and the ATHENA Organizational Award®, which recognizes one for-profit organization and one non-profit organization that inspire women in WNY.
We're highlighting each finalist in the weeks ahead, leading up to the Awards Luncheon. Come back often to read the profiles and you'll learn what it means to be an ATHENA!
Celebrate all of our finalists and see the recipients announced LIVE on March 29, 2023 at the Buffalo Niagara Convention Center.
The Buffalo Niagara Partnership is pleased to introduce you to 1 of 10 finalists in the ATHENA Leadership Award® category 
Meet ATHENA Leadership Award® Finalist: Tyra Johnson Hux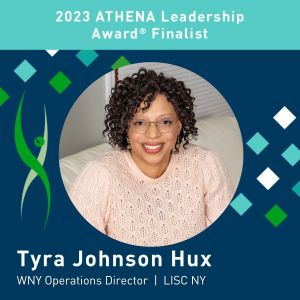 Tyra Johnson Hux leads efforts to cultivate, design and implement inclusive economic development programs for the LISC New York office. LISC NY focuses on four areas in the region: livability, housing, income and wealth building, and neighborhood business. These four areas work together to increase quality of life for residents and workers in WNY communities. LISC's work is done through partner organizations.  
A sought-after speaker, Tyra has conducted several training programs for professionals in the construction industry. She offers a series of lectures on the benefits of sustainable practices. Additionally, she serves as an adjunct professor at Daemen University, teaching a Sustainable Business Practices course. 
Passionate about community involvement, Tyra serves on the board of directors for 43North and ECIDA (Erie County Industrial Development Agency). Tyra was named a "WNY Game Changer" by Buffalo Spree and featured in Buffalo Magazine's "Women & Power".
We asked Tyra a series of questions to get to know her better.
First Job  
Tyra's first job was as an assistant production manager for a children's stage play. 
Career Highlights 
Tyra says she started out in wastewater engineering and realized early it's okay to pivot, leading to the career she has today. 
Best Piece of Advice Given Regarding Her Career 
Luck is what happens when preparation meets opportunity. 
Advice to Give to a Woman Just Starting in the Workplace. 
You are the average of the five people you spend the most time with. Surround yourself with the right people. 
About Being an ATHENA Finalist 
"I am honored to be recognized. But my focus for the event is to spread the message that prosperity needs to be shared and every community deserves equitable growth." 
On Buffalo Niagara 
Buffalo reminds me of my hometown, 10 years ago.  I stayed put so I can be part of the great future I see ahead.  
Favorite Spot in Buffalo  
I take daily walks in my neighborhood near Five Points. 
Added Insights 
Guilty Pleasure:

Vanilla ice cream

 

Superpower:

Making complicated information digestible

 

My Friends Describe Me As:

Friendly and a connector.

 

If I Could Swap Lives with Someone for a Day, I'd choose:

Alex Guarnaschelli

 
Attend the ATHENA Awards® Luncheon
The ATHENA Awards® Luncheon is the region's most prestigious event recognizing the professional accomplishments of exceptional individuals who are dedicated to the advancement of women. Be there when the recipients are announced:
Wednesday, March 29, 2023
11:00 A.M. to 1:30 P.M.
REGISTER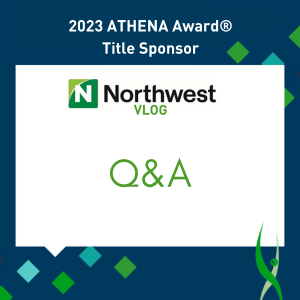 Not only is Northwest Bank the returning title sponsor for the 32nd Annual ATHENA Awards®, but their commitment to women in leadership is reflected in their daily operations.
Learn more in this video Q&A.