Introducing Katie Gorman, finalist for the 2023 ATHENA Leadership Award
For more than 30 years, the Buffalo Niagara Partnership has been honored to produce the ATHENA Awards® to support, develop, and honor women leaders in Western New York.
The BNP is pleased to introduce you to the finalists who have been selected for the 2023 ATHENA honors. This includes the ATHENA Leadership Award®, the ATHENA Young Professional Leadership Award®, and the ATHENA Organizational Award®, which recognizes one for-profit organization and one non-profit organization that inspire women in WNY.
We're highlighting each finalist in the weeks ahead, leading up to the Awards Luncheon. Come back often to read the profiles and you'll learn what it means to be an ATHENA!
Celebrate all of our finalists and see the recipients announced LIVE on March 29, 2023 at the Buffalo Niagara Convention Center.
The Buffalo Niagara Partnership is pleased to introduce you to 1 of 10 finalists in the ATHENA Leadership Award® category - Katie Gorman, Director of Corporate Social Responsibility & Strategic Initiatives, Delaware North.  
Meet ATHENA Leadership Award® Finalist: Katie Gorman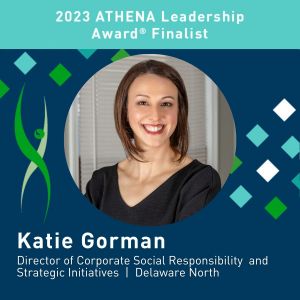 Katie Gorman is the Director of Corporate Social Responsibility (CSR) and Strategic Initiatives for Delaware North, a global hospitality company headquartered in Buffalo. In her role, Katie oversees the company's commitments to its employees and the communities where it operates.   
Delaware North's ongoing CSR initiatives include building a diverse and inclusive workplace and network of strategic partners; making investments to positively impact social determinants of health for the company's employees and guests; and being conscientious environmental stewards to support a healthy planet for future generations.  
Katie previously served as Delaware North's Director of Executive Communications. Prior to Delaware North, Katie led federal government relations for the University at Buffalo, a flagship research institution of the State University of New York system. Katie started her career in the office of United States Senate Majority Leader Charles E. Schumer, focusing on transportation and commerce legislative issues. 
We asked Katie a series of questions to get to know her better.
First Job  
Katie's first job was working in the Office of U.S. Senate Majority Leader Charles E. Schumer. 
Career Highlights 
Katie says career highlights so far include supporting Senator Schumer's legislative effort to make air travel safer following the crash of Flight 3407 in Clarence; helping to host President Obama's visit to UB in 2013; and watching Delaware North Chairman Jacobs' induction into the Hockey Hall of Fame. 
Best Piece of Advice Given Regarding Her Career 
"You don't get what you don't ask for." 
Advice to Give to a Woman Just Starting in the Workplace. 
"You don't get what you don't ask for! And never be afraid to ask a question that you might worry is 'silly' or 'dumb,' because there is a quiet power in letting someone know that you are comfortable not knowing everything." 
About Being an Athena Finalist 
"It's a humbling honor to be among incredible women who are present and past finalists." 
On Buffalo Niagara   
"I love the size of Buffalo. It's big enough to be exciting and small enough to feel familiar."  
Favorite Spot in Buffalo.  
When I need a deep think, I grab a stool and bagel at BreadHive Cafe & Bakery. 
Added Insights 
Guilty Pleasure:

Real Housewives of every city

 

Superpower:

The gift of gab

 

My Friends Describe Me As:

Rational

 

If I Could Swap Lives with Someone for a Day, I'd choose:

One of our female Supreme Court Justices

 
Attend the ATHENA Awards® Luncheon
The ATHENA Awards® Luncheon is the region's most prestigious event recognizing the professional accomplishments of exceptional individuals who are dedicated to the advancement of women. Be there when the recipients are announced:
Wednesday, March 29, 2023
11:00 A.M. to 1:30 P.M.
REGISTER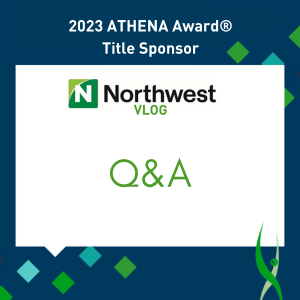 Not only is Northwest Bank the returning title sponsor for the 32nd Annual ATHENA Awards®, but their commitment to women in leadership is reflected in their daily operations.
Learn more in this video Q&A.