Introducing Jody Briandi , finalist for the 2023 ATHENA Leadership Award
For more than 30 years, the Buffalo Niagara Partnership has been honored to produce the ATHENA Awards® to support, develop, and honor women leaders in Western New York.
The BNP is pleased to introduce you to the finalists who have been selected for the 2023 ATHENA honors. This includes the ATHENA Leadership Award®, the ATHENA Young Professional Leadership Award®, and the ATHENA Organizational Award®, which recognizes one for-profit organization and one non-profit organization that inspire women in WNY.
We're highlighting each finalist in the weeks ahead, leading up to the Awards Luncheon. Come back often to read the profiles and you'll learn what it means to be an ATHENA!
Celebrate all of our finalists and see the recipients announced LIVE on March 29, 2023 at the Buffalo Niagara Convention Center.
The Buffalo Niagara Partnership is pleased to introduce you to 1 of 10 finalists in the ATHENA Leadership Award® category 
Meet ATHENA Leadership Award® Finalist: Jody Briandi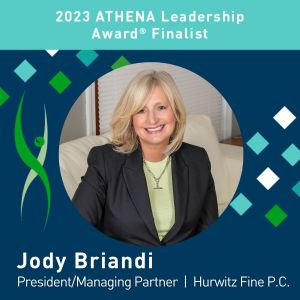 Jody Briandi is a general litigation attorney and President/Managing Partner of Hurwitz Fine P.C. She leads the firm's Board of Directors and chairs the firm's Premises Liability, Retail & Hospitality Liability, and School District Litigation practice groups.  
Jody has extensive experience representing retail, corporate, insurance, commercial transportation, and municipal clients in the full range of litigated matters and liability claims. She also represents a number of self-insured corporate clients for whom she handles all of their litigated matters ranging from premises and product liability to transportation negligence and for whom she has conducted extensive in-house training on litigation preventative measures, strategies, and legal updates. She has significant experience in professional liability, most specifically in the area of legal malpractice.  
Currently, Jody serves on the Board of Directors for the Amherst Chamber of Commerce, Buffalo State University Foundation, and the Western New York Women's Foundation. She also routinely speaks and writes on diversity and gender equity topics. 
We asked Jody a series of questions to get to know her better.
First Job  
Jody's first job as a young adult was in retail. Her first job as an attorney was at Hurwitz Fine as an associate litigation attorney.  
Career Highlights 
Jody notes that becoming the firm's third Managing Partner was a high point for her. She says in general, women in law are underrepresented at the higher levels of equity partnership and law firm management so she felt this was a tremendous opportunity to help move the needle. 
Best Piece of Advice Given Regarding Her Career 
As a lawyer, it was "be prepared." As a woman, it was "you can do it."  
Advice to Give to a Woman Just Starting in the Workplace. 
Embrace mentorship and sponsorship. Engage with your co-workers, colleagues, and other women in your profession. Take advantage of all opportunities to learn, grow, expand your knowledge base, and connect. 
About Being an ATHENA Finalist 
"As a law firm leader and woman, I am dedicated to the advancement of women in my organization and in the community. Therefore, I am incredibly honored to be recognized as a nominee, especially in light of the other women nominated this year and in prior years. Knowing there is a network of like-minded women doing amazing work in the Buffalo Niagara region, and sharing a common goal of helping other women, makes me proud to be a part of it personally and professionally." 
On Buffalo Niagara 
The people and sense of belonging make Western New York a wonderful place to live and work.   
Favorite Spot in Buffalo.  
During Covid, I began walking on the bike path near my home in Clarence. It has since become a favorite activity and place to unwind and think. 
Added Insights 
Guilty Pleasure:

Listening to '80s music and seeing bands like Tears for Fears, Duran Duran and Foreigner perform live today. 

 

Superpower:

Mind reader

 

My Friends Describe Me As:

Welcoming and always happy to share a meal, conversation, and connection. 

 

If I Could Swap Lives with Someone for a Day, I'd choose:

Ruth Bader Ginsburg.

 
Attend the ATHENA Awards® Luncheon
The ATHENA Awards® Luncheon is the region's most prestigious event recognizing the professional accomplishments of exceptional individuals who are dedicated to the advancement of women. Be there when the recipients are announced:
Wednesday, March 29, 2023
11:00 A.M. to 1:30 P.M.
REGISTER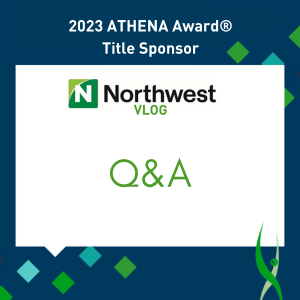 Not only is Northwest Bank the returning title sponsor for the 32nd Annual ATHENA Awards®, but their commitment to women in leadership is reflected in their daily operations.
Learn more in this video Q&A.