Introducing Daniella Piper, finalist for the 2023 ATHENA Leadership Award
For more than 30 years, the Buffalo Niagara Partnership has been honored to produce the ATHENA Awards® to support, develop, and honor women leaders in Western New York.
The BNP is pleased to introduce you to the finalists who have been selected for the 2023 ATHENA honors. This includes the ATHENA Leadership Award®, the ATHENA Young Professional Leadership Award®, and the ATHENA Organizational Award®, which recognizes one for-profit organization and one non-profit organization that inspire women in WNY.
We're highlighting each finalist in the weeks ahead, leading up to the Awards Luncheon. Come back often to read the profiles and you'll learn what it means to be an ATHENA!
Celebrate all of our finalists and see the recipients announced LIVE on March 29, 2023 at the Buffalo Niagara Convention Center.
The Buffalo Niagara Partnership is pleased to introduce you to 1 of 10 finalists in the ATHENA Leadership Award® category 
Meet ATHENA Leadership Award® Finalist: Daniella Piper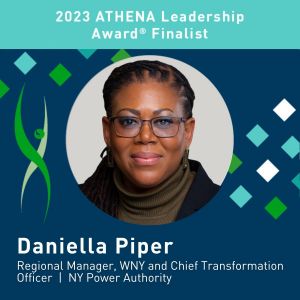 Daniella Piper is the Regional Manager of the New York Power Authority's Western Region, anchored by the Niagara Power Project, the largest hydroelectric facility in the Northeast. She also serves as Chief Transformation Officer, providing leadership to select transformational initiatives. Prior to this, Daniella held roles of increasing responsibility, including Chief of Staff & VP, Digital Transformation, serving as a trusted advisor to NYPA's President and CEO and driving digitalization efforts at the Authority.
She has held roles in multiple departments, including the Reliability Standards and Compliance group and Project Management where she led multiple programs including the Authority's Transmission Life Extension and Modernization Program, a $726M program to extend the life of the Authority's transmission assets.    
Daniella, a licensed professional engineer in New York State, holds a Bachelor of Engineering in electrical engineering from City College of New York, a Master of Science in Electrical Engineering from New York University, and a Master of Engineering Construction Management from Manhattan College. In her spare time, she is a mentor in the Workplace Culture Coaching Program of Westchester Community College.  
We asked Daniella a series of questions to get to know her better.
First Job  
Daniella's first job was as an administrative assistant at a private school. 
Career Highlights 
Being the first woman to lead a power project at the Authority; Leading the development of NYPA's 10 Point DEI plan to advance racial justice.  
Best Piece of Advice Given Regarding Her Career 
Know your worth. 
Advice to Give to a Woman Just Starting in the Workplace. 
Take risks; it is the only way to grow.  
About Being an Athena Finalist 
"It is an honor to be a finalist, and in the company of women who strive for excellence and impact as they chart new paths for those who will come after us."   
On Buffalo Niagara 
Enjoying the best Spring and Summer seasons ever and having the best of both rural and city life. 
Favorite Spot in Buffalo.  
The waterfront. 
Added Insights 
Guilty Pleasure:

Movie – X-Men

 

Superpower:

Planning and execution.

 

My Friends Describe Me As:

Curious.

 

If I Could Swap Lives with Someone for a Day, I'd choose:

A deep-sea diver.

 
Attend the ATHENA Awards® Luncheon
The ATHENA Awards® Luncheon is the region's most prestigious event recognizing the professional accomplishments of exceptional individuals who are dedicated to the advancement of women. Be there when the recipients are announced:
Wednesday, March 29, 2023
11:00 A.M. to 1:30 P.M.
REGISTER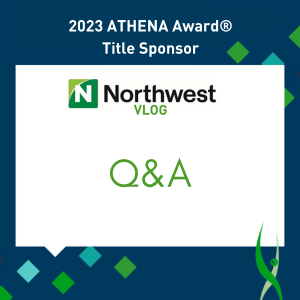 Not only is Northwest Bank the returning title sponsor for the 32nd Annual ATHENA Awards®, but their commitment to women in leadership is reflected in their daily operations.
Learn more in this video Q&A.