Introducing Shantelle Patton, finalist for the 2023 ATHENA Leadership Award
For more than 30 years, the Buffalo Niagara Partnership has been honored to produce the ATHENA Awards® to support, develop, and honor women leaders in Western New York.
The BNP is pleased to introduce you to the finalists who have been selected for the 2023 ATHENA honors. This includes the ATHENA Leadership Award®, the ATHENA Young Professional Leadership Award®, and the ATHENA Organizational Award®, which recognizes one for-profit organization and one non-profit organization that inspire women in WNY.
We're highlighting each finalist in the weeks ahead, leading up to the Awards Luncheon. Come back often to read the profiles and you'll learn what it means to be an ATHENA!
Celebrate all of our finalists and see the recipients announced LIVE on March 29, 2023 at the Buffalo Niagara Convention Center.
The Buffalo Niagara Partnership is pleased to introduce you to 1 of 10 finalists in the ATHENA Leadership Award® category - Shantelle Patton, CEO & Founder, That Brown Bag Minority Business Directory
Meet ATHENA Leadership Award® Finalist: Shantelle Patton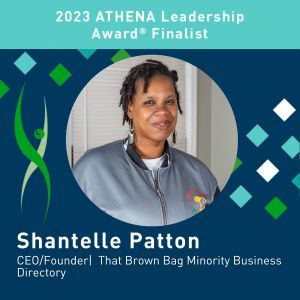 Shantelle Patton is Founder and CEO of That Brown Bag Minority Business Directory, a comprehensive list of minority-owned businesses in Buffalo and the surrounding area. Shantelle created the directory to promote local minority-owned businesses and educate the community on the products and services they offer. There are more than 500 Black-owned businesses listed in the directory from Buffalo, Niagara Falls, and Rochester, plus some listings from businesses in Toronto. 
Shantelle is also president of the Urban Chamber of Commerce in Buffalo and serves as Vice President of Sponsorship for ATD Buffalo Niagara, a professional association dedicated to the training and development field in Western New York. In addition, she is a board member for the WNY Arts Collective, The Foundry, and Buffalo's Own Artist & Designers Group, Inc. 
Shantelle attended Niagara University, and prior to launching the business directory, completed the Open Buffalo Emerging Leaders program and the UB Citizens Planning School Champions for Change program. 
We asked Shantelle a series of questions to get to know her better.
First Job  
Shantelle's first job was serving as a Teen Peer Educator with Planned Parenthood 
Career Highlights 
Being listed among the 2022 Buffalo Business First 100 Power Business Leaders of Color and receiving the 2023 Buffalo Business First IDEA Award.
Advice to Give to a Woman Just Starting in the Workplace. 
"Find your tribe. Find mentors who can assist you in navigating through the field you have just embarked on. Ask questions!"  
 About Being an ATHENA Finalist 
"Being recognized for my contributions to the community is a great honor. As a finalist, I am elated to be among a group of professionals who value the work we do and strive to positively impact the city as it continues to grow." 
On Buffalo Niagara 
"Buffalo is a melting pot of cultures and ideas." 
Favorite Spot in Buffalo.  
The Labyrinth on Linwood Avenue. A quiet space to reflect and meditate while enjoying a natural landscape. 
Added Insights 
Guilty Pleasure:

The cartoon series Archer

 

Superpower:

Connecting people

 

My Friends Describe Me As:

The voice of reason.

 

If I Could Swap Lives with Someone for a Day, I'd choose:

My daughter...so that I can see myself through her eyes and what impact I am truly having on her life.

 
Attend the ATHENA Awards® Luncheon
The ATHENA Awards® Luncheon is the region's most prestigious event recognizing the professional accomplishments of exceptional individuals who are dedicated to the advancement of women. Be there when the recipients are announced:
Wednesday, March 29, 2023
11:00 A.M. to 1:30 P.M.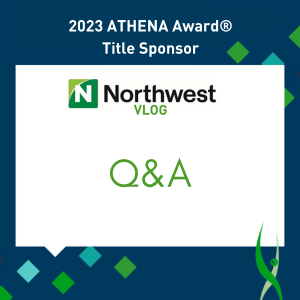 Not only is Northwest Bank the returning title sponsor for the 32nd Annual ATHENA Awards®, but their commitment to women in leadership is reflected in their daily operations.
Learn more in this video Q&A.