Now you can reach potential talent earlier with Earn & Learn—a series of programs focused on finding creative ways to combine training and employment opportunities to sustainably fill your talent pipeline. Grow your company by connecting with the next generation of talent through Earn & Learn programs, including:
Registered and unregistered apprenticeships
Credentialing
Internships
The Buffalo Niagara Partnership is currently helping drive the CareerWise Buffalo Niagara initiative by providing unregistered apprenticeship programs between local youth and several regional employers.
You can see if your company is a good fit for this effort here.  
Join companies in all industries across your community that are already participating in Earn & Learn programs as a new way to sustainably fill their talent pipeline with more qualified—and passionate employees.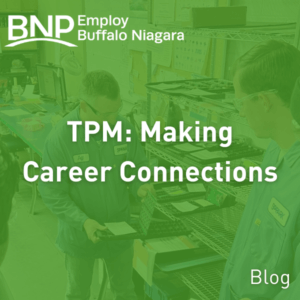 The Buffalo Niagara Partnership continues to expand our Employ Buffalo Niagara Talent Pipeline Management (TPM) program, connecting hiring employers to regional job seekers. The Talent Pipeline Management program is a 1-2 year workshop that brings companies with similar job needs together, sharing their common talent pain-points, communicating new industry expectations and addressing