The Buffalo Niagara Partnership is proud to work on behalf of our membership.  Whether drawing attention to an important issue or introducing programs and initiatives, our work reflects the needs and wants of WNY's business community.  Here's what we've been doing lately...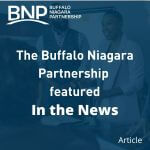 BUFFALO, N.Y. (The Buffalo News) — Manufacturers in the Buffalo Niagara region have a lot on their minds, beyond supply chain issues and inflation.
They're trying to fill job openings and get young people interested in manufacturing careers.