2023 DEI Symposium: Meet DeWan Stroud, Panelist
The BNP is pleased to welcome DeWan Stroud, Chief People Officer, BestSelf Behavioral Health as a panelist for the DEI Symposium.
We will be helping you get to know each presenter, panelist, and moderator in the weeks ahead, leading up to the 6th Annual D&I Symposium on June 1st – get your tickets here.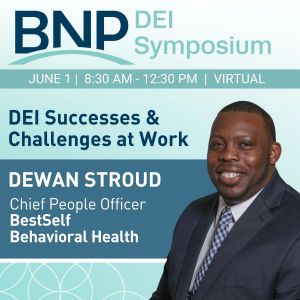 More about DeWan:
DeWan Stroud is a seasoned Human Resources Leader with over a decade of experience, including six years of leadership in Diversity, Equity, and Inclusion (DEI). He currently serves as the Chief People Officer at BestSelf Behavioral Health in WNY, where he drives the development and implementation of strategic human resource and talent management initiatives to enrich the employee experience. As a co-chair of the agency's Racial Equity and Inclusion initiatives, DeWan is dedicated to fostering an inclusive environment that values and celebrates all. 
DeWan holds a Bachelor's Degree in Business Administration with a specialization in Human Resource Management from Daemen College, and he has also earned a DEI Practitioner certification from Cornell University. Furthermore, he is a certified Lean Professional and Black Belt in Lean Six Sigma. 
Outside of work, DeWan cherishes spending quality time with his wife Jalila and their three daughters, Amia, Liana, and Brielle. Additionally, he enjoys coaching young athletes in football and basketball. 
2023 DEI Symposium Panel: DEI Successes and Challenges at Work
Our panelists, representing small, medium, and large companies, will discuss what has worked and what hasn't worked at their organizations and how attendees can benefit from their challenges and successes.
Moderator: Kenya Hobbs, Director, Community Engagement & Equity Initiatives, Buffalo Niagara Partnership
Panelists:
Jody Briandi, President, Managing Partner Hurwitz Fine PC
Barbara Strother, Corporate Recruiting Manager for Aleron
DeWan Stroud, Chief People Officer, BestSelf Behavioral Health
Attend the 2023 DEI Symposium
Our 6th Annual Diversity, Equity, and Inclusion Symposium will feature national experts on D&I sharing their knowledge on subjects such as building an inclusive culture, and the best practices, cultural assessments, and dimensions of diversity.
KEYNOTE: Sandra Quince, Paradigm for Parity CEO, Bank of America Leader on Loan
This event will feature workshops and break-out sessions with actionable next steps for attendees to take away.
Thursday, June 1, 2023
8:30 a.m. to 12:30 p.m. EDT


Register to Attend Here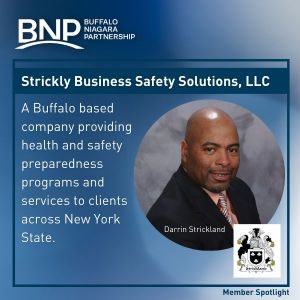 Darrin Strickland is the founder and CEO of Strickly Business Safety Solutions, LLC, a Buffalo-based company providing health and safety preparedness programs and services to clients across New York State. From authorized and certified CPR/AED training and workplace emergency preparedness, to defensive driving courses and babysitter certification, Strickland and his staff help businesses, schools, and individuals be safe and be ready in critical situations.