Introducing Patti Stephen, finalist for the 2022 ATHENA Leadership Award
For more than 30 years, the Buffalo Niagara Partnership has been honored to produce the annual ATHENA Awards® to support, develop, and honor women leaders in Western New York.
This year, as we return to our in-person celebration on April 5, the BNP is pleased to introduce you to the finalists who have been selected for the 2022 ATHENA® honors. This includes the ATHENA Leadership Award® and the ATHENA Young Professional Leadership Award® as well as the ATHENA Organizational Award® to recognize one for-profit organization and one non-profit organization that inspire women in WNY.
We will bring you profiles of each finalist in the weeks ahead, leading up to the awards event.  Come back often to read the profiles and you'll learn what it means to be an Athena.
Celebrate all of the finalists at the LIVE event on April 5, 2022 at the Buffalo Niagara Convention Center.
The Buffalo Niagara Partnership is pleased to introduce you to 1 of 10 finalists in the ATHENA Leadership Award® category - Patti Stephen, Executive Director - Buffalo Prep.
Meet ATHENA Leadership Award® Finalist: Patti Stephen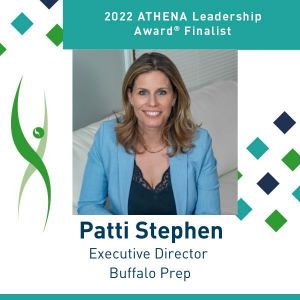 Patti Stephen is the Robert G. Wilmers Endowed Executive Director of Buffalo Prep. Located on the University at Buffalo's South Campus, Buffalo Prep is an academic enrichment program providing academic programming for underrepresented students. In her role as executive director, Patti promotes an agenda of anti-racist work, educational equity, and racial justice across Buffalo Prep's community-wide partnerships. 
With over 20 years of experience in the Buffalo nonprofit world, both as an employee and a volunteer, Patti has served on several boards including her current service with the National Partnership for Educational Access, Buffalo Olmstead Parks Conservancy, and the Education Collaborative of WNY. 
Patti is a recipient of the Buffalo Business First '40 under 40' award and was recognized by the University at Buffalo Graduate School of Education with the Dean's Service Award. In 2021, she was awarded the Outstanding Executive Award, which honors a Western New York business executive who supports the role of public relations in their organization and the community.  
We asked Patti a series of questions to get to know her better.
First Job  
Patti's first job was at John and Mary's Sub Shop. 
Career Highlights 
Among many career highlights Patti includes being appointed to the National Partnership for Educational Access (NPEA) board. She says she is passionate about educational equity and racial justice and is thankful to have this larger platform to grow from and utilize as a resource in her daily efforts. 
Best Piece of Advice Given Regarding Her Career 
It is okay to fail, and failure makes you a better leader. You are a much stronger leader when you can admit you don't have all the answers and lean on the expertise of others. 
Advice to Give to a Woman Just Starting in the Workplace 
Be kind to yourself first and foremost. Especially if you are a working mother and trying to balance your career and responsibilities at home. It is easy to lose yourself and to punish yourself out of care for others.  
About Being an ATHENA Finalist 
"I must admit I was shocked to be nominated as a finalist for the Athena award! I remember when Julia Roberts won an Oscar and in her acceptance speech, she said she was blown away because she is 'just a girl doing a job she loves'!  This is how I feel!  I have the privilege to be surrounded by many incredible women in my professional career that I gain a lot from– several of them recipients of this same recognition.  I am humbled to think I am making the difference in the lives of others as they have in mine. Being nominated for this recognition demonstrates that who I am and who I want others to feel I am is in line with my values."  
On Buffalo Niagara 
"I love WNY and am so proud to share with anyone that will listen about all of the amazing aspects including the architecture, people, restaurants, cultural institutions, sports teams and neighborhoods."   
Favorite Spot in Buffalo  
Everywhere –  I really do believe we are the City of Good Neighbors.   
Added Insights 
Guilty Pleasure:

Dark intimate spaces like great restaurants, music clubs or dive bars 

 

Superpower:

  Killing people with kindness. 

 

My Friends Describe Me As:

Silly, Relentless and Loving 

 

Yearbook Superlative:

Resilient 

 

If I Could Swap Lives with Someone for a Day, I'd choose

:  

Josh Allen, but just for 13 seconds. Go Bills!

 
Attend the ATHENA Awards® Luncheon
The ATHENA Awards® Luncheon is the region's most prestigious event recognizing the professional accomplishments of exceptional individuals who are dedicated to the advancement of women. Be there when the winners are announced.
Tuesday, April 5, 2022
11:00 a.m. to 1:30 p.m.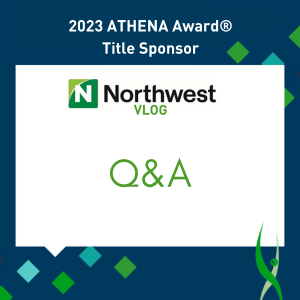 Not only is Northwest Bank the returning title sponsor for the 32nd Annual ATHENA Awards®, but their commitment to women in leadership is reflected in their daily operations.
Learn more in this video Q&A.