Introducing Sonya Tareke, finalist for the 2022 ATHENA Young Professional Leadership Award
For more than 30 years, the Buffalo Niagara Partnership has been honored to produce the annual ATHENA Awards® to support, develop, and honor women leaders in Western New York.
This year, as we return to our in-person celebration on April 5, the BNP is pleased to introduce you to the finalists who have been selected for the 2022 ATHENA® honors. This includes the ATHENA Leadership Award® and the ATHENA Young Professional Leadership Award® as well as the ATHENA Organizational Award® to recognize one for-profit organization and one non-profit organization that inspire women in WNY.
We will bring you profiles of each finalist in the weeks ahead, leading up to the awards event.  Come back often to read the profiles and you'll learn what it means to be an Athena.
Celebrate all of the finalists at the LIVE event on April 5, 2022 at the Buffalo Niagara Convention Center.
The Buffalo Niagara Partnership is pleased to introduce you to 1 of 10 finalists in the 
ATHENA Young Professional 
Leadership 
Award® category – 

Sonya 

Tareke

, 

Program Manager

, 

Entrepreneurship for All

.  
Meet ATHENA Young Professional Leadership Award® Finalist: 

Sonya 

Tareke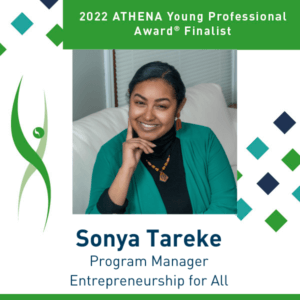 Sonya Tareke is the Program Manager for Entrepreneurship for All Buffalo where she co-leads the organization's development efforts in fostering an entrepreneurial ecosystem that engages the local community in a true grassroots fashion. She is also an entrepreneur herself as she is the co-founder of Real Talk, an e-Learning platform that promotes diversity, equity, and inclusion by empowering educators and students through guided social discussion. 
Inspired by the Buffalo ecosystem, her goal is to one day head a University Innovation Center. Sonya is from Mount Vernon, NY and moved to Buffalo in 2013 to pursue her dual bachelor's and Master's in Business Administration at the University at Buffalo.  
Sonya is passionate about health, wellness, and mentorship. She is a mentor for Say Yes Buffalo and is a Tapestry Charter School Club Leader. Outside of work, Sonya enjoys attending food festivals, stand-up comedy shows, and poetry slams here in Western New York. 
We asked Sonya a series of questions to get to know her better.
First Job  
Sonya's first job was as a library aide. 
Career Highlights 
Sonya says she was the first on both sides of her family to earn a Master's degree and she points to that accomplishment as one of her greatest career highlights so far. 
Best Piece of Advice Given Regarding Her Career 
The richest place on earth is the graveyard. 
Advice to Give to a Woman Just Starting in the Workplace. 
Self-advocacy is key as a woman in the workplace, so practice your negotiation skills daily. 
About Being an ATHENA Finalist 
"Thank you to the ATHENA committee for naming me a 2022 award finalist! The true value of this award is the priceless access it provides to powerhouse Western New York women leaders who I look forward to forming mentor relationships with." 
On Buffalo Niagara 
"What I enjoy most about being a Buffalo transplant is the entrepreneurial spirit of this city as we go through our Buffalo Billion renaissance." 
Favorite Spot in Buffalo  
Frank Lloyd Wright's Martin House 
Added Insights 
Guilty Pleasure: 

Taro Waffles w/Whip Cream

Superpower: 

Telepathy

My Friends Describe Me As: 

Superwoman

Yearbook Superlative: 

Most Likely to Break Out in Song

If I Could Swap Lives with Someone for a Day, I'd choose: 

Oprah Winfrey
Attend the ATHENA Awards® Luncheon
The ATHENA Awards® Luncheon is the region's most prestigious event recognizing the professional accomplishments of exceptional individuals who are dedicated to the advancement of women. Be there when the recipients are announced.
Tuesday, April 5, 2022
11:00 a.m. to 1:30 p.m.
Register to Attend Here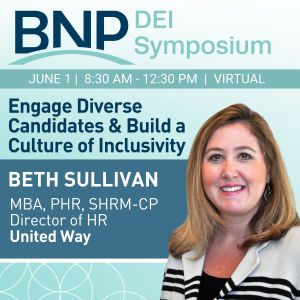 The BNP is pleased to welcome Beth Sullivan, MBA, PHR, SHRM-CP, Director of Human Resources at United Way of Buffalo & Erie County, as a panelist for the 2023 DEI Symposium. We will be helping you get to know each presenter, panelist, and moderator in the weeks ahead, leading up to the June 1st event.