Introducing Tiffany Gaines, finalist for the 2023 ATHENA Young Professional Leadership Award
For more than 30 years, the Buffalo Niagara Partnership has been honored to produce the ATHENA Awards® to support, develop, and honor women leaders in Western New York.
The BNP is pleased to introduce you to the finalists who have been selected for the 2023 ATHENA honors. This includes the ATHENA Leadership Award®, the ATHENA Young Professional Leadership Award®, and the ATHENA Organizational Award®, which recognizes one for-profit organization and one non-profit organization that inspire women in WNY.
We're highlighting each finalist in the weeks ahead, leading up to the Awards Luncheon. Come back often to read the profiles and you'll learn what it means to be an ATHENA!
Celebrate all of our finalists and see the recipients announced LIVE on March 29, 2023 at the Buffalo Niagara Convention Center.
The Buffalo Niagara Partnership is pleased to introduce you to 1 of 10 finalists in the ATHENA Leadership Award® category - Young Professional
Meet ATHENA Young Professional Leadership Award® Finalist: Tiffany Gaines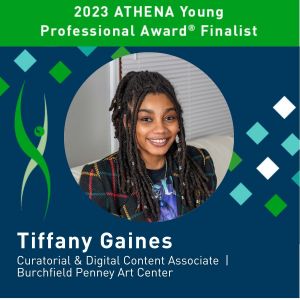 Tiffany Gaines is a Curatorial and Digital Content Associate at the Burchfield Penney Art Center in Buffalo. She is a grad student working as a curator, writer, and photographer to highlight the diverse art and artists of the community. Her role in this multidisciplinary practice engages new perspectives, utilizing art to create a more understanding and empathetic future. 
Tiffany graduated from Buffalo State University with a bachelor's degree in journalism and she is currently working toward her Mast of Arts degree at the University at Buffalo. She participates in volunteer opportunities that further her experiences as an arts administrator, serving on committees for arts organizations and community programs. She has also been a guest curator and juror for exhibitions. 
Prior to joining Burchfield Penney, Tiffany worked as an English tutor at Buffalo Prep, helping high school students and providing homework assistance as part of the education center's College Prep program. 
We asked Tiffany a series of questions to get to know her better.
First Job  
Tiffany's very first job was at a bike shop in Brooklyn, which is where she first learned to ride a bike! She also worked customer service jobs through high school and college.  
Career Highlights 
Tiffany says she is incredibly proud of her career trajectory and transition from Visitor Services to a full-time position at the Burchfield Penney Art Center.   
Best Piece of Advice Given Regarding Her Career 
Trust your gut. Learning to listen to your intuition and do what feels right, even if it doesn't seem like it makes sense, will always lead you to where you are meant to be in the end. 
Advice to Give to a Woman Just Starting in the Workplace. 
Be open to any and everything and take your time. Sometimes our journey takes us down paths that we would've never imagined for ourselves. Allow the vision you have of your life to grow and evolve as you do. 
About Being an Athena Finalist 
"It's an honor, and still surreal to be a finalist. It is humbling to be considered among so many influential women changemakers. Thank you to the Buffalo Niagara Partnership for this recognition and the Burchfield Penney for its endless support."   
On Buffalo Niagara 
"Buffalo has a close-knit community – especially within the arts – that's just incredible. I always joke about the one degree of separation that exists here, and how interconnected everyone really is. It's a large city with a small-town vibe." 
Favorite Spot in Buffalo.  
I absolutely love visiting the Outer Harbor as a space to reconnect with nature, slow down and really be present. The sunsets are breathtaking. 
Added Insights 
Guilty Pleasure:

Netflix binges (and lots of snacks)

 

Superpower:

Teleportation

 

My Friends Describe Me As

: Innovative, selfless, charming

 

If I Could Swap Lives with Someone for a Day, I'd choose:

No one – Every day I feel blessed to live the life I do

 
Attend the ATHENA Awards® Luncheon
The ATHENA Awards® Luncheon is the region's most prestigious event recognizing the professional accomplishments of exceptional individuals who are dedicated to the advancement of women. Be there when the recipients are announced:
Wednesday, March 29, 2023
11:00 A.M. to 1:30 P.M.
REGISTER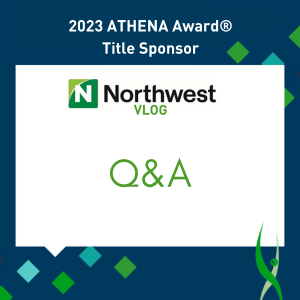 Not only is Northwest Bank the returning title sponsor for the 32nd Annual ATHENA Awards®, but their commitment to women in leadership is reflected in their daily operations.
Learn more in this video Q&A.