Introducing Christina Holdsworth, finalist for the 2023 ATHENA Young Professional Leadership Award
For more than 30 years, the Buffalo Niagara Partnership has been honored to produce the ATHENA Awards® to support, develop, and honor women leaders in Western New York.
The BNP is pleased to introduce you to the finalists who have been selected for the 2023 ATHENA honors. This includes the ATHENA Leadership Award®, the ATHENA Young Professional Leadership Award®, and the ATHENA Organizational Award®, which recognizes one for-profit organization and one non-profit organization that inspire women in WNY.
We're highlighting each finalist in the weeks ahead, leading up to the Awards Luncheon. Come back often to read the profiles and you'll learn what it means to be an ATHENA!
Celebrate all of our finalists and see the recipients announced LIVE on March 29, 2023 at the Buffalo Niagara Convention Center.
The Buffalo Niagara Partnership is pleased to introduce you to 1 of 10 finalists in the ATHENA Leadership Award® category - Young Professional
Meet ATHENA Young Professional Leadership Award® Finalist: Christina Holdsworth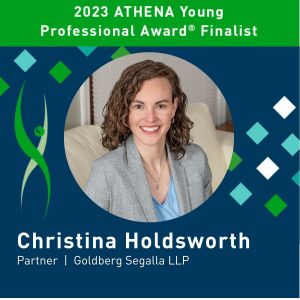 Christina Holdsworth is a partner in the law firm of Goldberg Segalla where she focuses her practice on defending businesses and non-profits in personal injury matters. Within these areas of the law, Christina defends professionals, fitness facilities, sporting arenas, municipal entities, security companies, and more. She has a particular focus on the defense of mental hygiene agencies, including understanding the unique laws and regulations for these types of facilities. 
Christina earned a bachelor's degree from State University of New York at Buffalo and a law degree from State University of New York at Buffalo Law School. She volunteers as a mentor for students at the law school, as well as for young attorneys. She also serves as co-chair of the Women's Bar Association of New York State LGBT Committee and was a member of the Erie County Republican Executive Committee. 
Christina has volunteered with the Pride Center of Western New York, and as an ambassador for Dining Out for Life, an annual fundraising event for AIDS service organizations.
We asked Christina a series of questions to get to know her better.
First Job  
 Christina's first job was as a Subway "Sandwich Artist". 
Best Piece of Advice Given Regarding Her Career 
You will have one chance to set your reputation in the professional community, so act wisely.  How you treat others will follow you for the rest of your career. 
Advice to Give to a Woman Just Starting in the Workplace. 
Take advantage of mentorship opportunities, especially with other women. 
About Being an Athena Finalist 
"It is humbling to be included in the ranks of the accomplished, inspiring woman who paved the way for the rest of us.  Being a finalist motivates me to carry the torch on to the next generation of professional women." 
On Buffalo Niagara 
The legal community in Buffalo Niagara is very tight-knit and most lawyers strive to get along with their adversaries. 
Favorite Spot in Buffalo.  
Hoyt Lake - Delaware Park 
Added Insights 
Guilty Pleasure:

Comic books and video games

 

My Friends Describe Me As:

Personable

 
Attend the ATHENA Awards® Luncheon
The ATHENA Awards® Luncheon is the region's most prestigious event recognizing the professional accomplishments of exceptional individuals who are dedicated to the advancement of women. Be there when the recipients are announced:
Wednesday, March 29, 2023
11:00 A.M. to 1:30 P.M.
REGISTER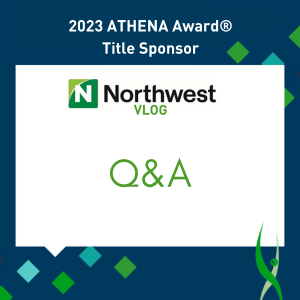 Not only is Northwest Bank the returning title sponsor for the 32nd Annual ATHENA Awards®, but their commitment to women in leadership is reflected in their daily operations.
Learn more in this video Q&A.