Introducing Anastasia McCarthy, finalist for the 2023 ATHENA Young Professional Leadership Award
For more than 30 years, the Buffalo Niagara Partnership has been honored to produce the ATHENA Awards® to support, develop, and honor women leaders in Western New York.
The BNP is pleased to introduce you to the finalists who have been selected for the 2023 ATHENA honors. This includes the ATHENA Leadership Award®, the ATHENA Young Professional Leadership Award®, and the ATHENA Organizational Award®, which recognizes one for-profit organization and one non-profit organization that inspire women in WNY.
We're highlighting each finalist in the weeks ahead, leading up to the Awards Luncheon. Come back often to read the profiles and you'll learn what it means to be an ATHENA!
Celebrate all of our finalists and see the recipients announced LIVE on March 29, 2023 at the Buffalo Niagara Convention Center.
The Buffalo Niagara Partnership is pleased to introduce you to 1 of 10 finalists in the ATHENA Leadership Award® category - Young Professional
Meet ATHENA Young Professional Leadership Award® Finalist: Anastasia McCarthy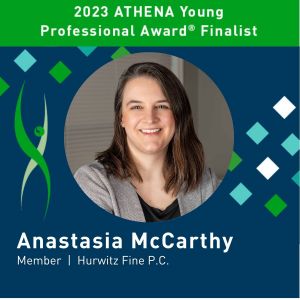 Anastasia McCarthy is a member attorney with the law firm of Hurwitz Fine P.C. in Buffalo.  She regularly defends businesses, municipalities, and school districts in high-exposure matters and focuses her practice on the defense of personal injury claims involving premises, transportation and automotive, and product liability.  She also serves on the firm's Child Victims Act and Sexual Misconduct Coverage and Defense team and frequently writes about the Child Victims Act and its effect on litigation. 
Prior to joining Hurwitz Fine, Anastasia served as Assistant Field Counsel for a large national insurance carrier, defending commercial policyholders in high-exposure tort actions. She earned dual Bachelor of Arts degrees in English Literature and Theatre from SUNY Geneseo and received her Juris Doctor degree cum laude from the University at Buffalo School of Law.  She also served as co-founder and co-president of the Women of SUNY Buffalo Law. 
Anastasia serves on the law firm's Diversity & Inclusion Committee and is a member of the Erie County and New York State Bar Associations, as well as the Women's Bar Association of New York (WBASNY). She currently serves as President of WBASNY's Western New York Chapter.  
We asked Anastasia a series of questions to get to know her better.
First Job  
Anastasia's first job was scooping ice cream and pouring coffee at Buckman's Bakery in Greece, NY.  
Career Highlights 
Anastasia says one of the greatest honors of her career thus far has been serving as the WNY Chapter President of the Women's Bar Association of the State of New York.  She loves having the opportunity to develop meaningful programming for its members.  
Best Piece of Advice Given Regarding Her Career 
Be present and listen. 
Advice to Give to a Woman Just Starting in the Workplace. 
Be bold--advocate for yourself and don't be afraid to put yourself out there.  
About Being an Athena Finalist 
"I am so honored--it is validating to know that the things I put so much effort into resonate with others.  It is also extremely flattering to be among the other incredible finalists."   
On Buffalo Niagara 
The legal community in Buffalo Niagara is very collegial and accessible. And I also absolutely love living close to my extended family.  
Favorite Spot in Buffalo. 
Krull Park, Olcott Beach (Sorry, I know that's technically not in Buffalo).  
Added Insights 
Guilty Pleasure:

Reality television

 

Superpower:

Empathy and adaptability

 

My Friends Describe Me As:

Passionate, driven, hardworking.

 

If I Could Swap Lives with Someone for a Day, I'd choose:

Brandi Carlisle

 
Attend the ATHENA Awards® Luncheon
The ATHENA Awards® Luncheon is the region's most prestigious event recognizing the professional accomplishments of exceptional individuals who are dedicated to the advancement of women. Be there when the recipients are announced:
Wednesday, March 29, 2023
11:00 A.M. to 1:30 P.M.
REGISTER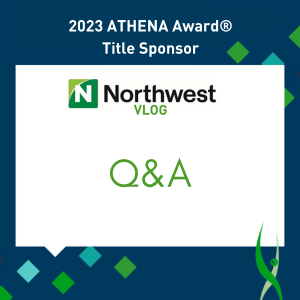 Not only is Northwest Bank the returning title sponsor for the 32nd Annual ATHENA Awards®, but their commitment to women in leadership is reflected in their daily operations.
Learn more in this video Q&A.