BNP Advocacy Insider – December 2022
Uneventful Election Season Wraps Up 
Locally, Election Day did not bring any surprises. The only incumbent to lose was state Sen. Ed Rath, who was redistricted into a battle against fellow incumbent Sen. Sean Ryan. Victories by new Congressional representatives Nick Langworthy and Claudia Tenney were expected, and despite the hype, all statewide officials were reelected.  
Republicans Gain the House 
Because of Republican house gains around the country, Congress will look very different in January. Rep. Kevin McCarthy is the favorite to become the next House Speaker, but a thin margin for error and some conservative resistance means it's not a guarantee. Brooklyn Rep. Hakeem Jeffries will take over as leader of the House Democrats. Sen. Mitch McConnell and Sen. Chuck Schumer will retain their leadership posts. Congress has a busy agenda planned for December.  
Hochul Begins Acting on Legislation 
In Albany, now that elections are over, Gov. Kathy Hochul has finally begun reviewing bills passed earlier this year. Hochul imposed a two-year moratorium on cryptocurrency mining, an effort the BNP opposed. Hochul vetoed a duplicative workforce reporting bill that the BNP opposed.  
New State Tax Credit for COVID Expenses 
The state is offering tax credits to smaller employers to help offset the cost of COVID-related investments. Learn about the program and how to apply on our blog.  
 DiNapoli: State Wasted Billions of UI Funds 
State Comptroller Tom DiNapoli released a devastating report detailing just how much the state wasted on Unemployment Insurance through improper and fraudulent payments. The BNP set up a one-click tool to help employers communicate with lawmakers in response. Contact your lawmakers here. 
State Expands Rights for Nursing Mothers 
Effective in June, a new state law will require employers to establish lactation spaces when requested by an employee. Employers should be aware of new obligations this law creates. Learn more on here.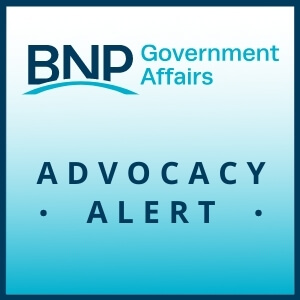 Blog Back to Our Blog Blog Categories This month, a new law regarding pay transparency will take effect in New York. All employers should prepare to comply with this law. Get answers to frequently asked questions below. What does the law require? The law requires employers to disclose the compensation (salary or wage) or range of compensation…