11.9.22 Advocacy Alert: Election Night Roundup: What to Know About the Midterms
Yesterday, voters around the country headed to the polls for a consequential round of midterm elections. Here's what you need to know:
1. Hochul hangs on. Incumbent Kathy Hochul defeated Rep. Lee Zeldin in a much closer-than-expected race. After finishing ex-Gov. Cuomo's term, Hochul will now hold New York's top office for a full four years. Months ago, Hochul was predicted to cruise to victory, but the Governor's race tightened significantly in the closing weeks as voters focused on crime and the economy. Hochul's narrow margin of victory will likely impact the way she approaches her first full term.
2. Congressional control a close call. Congressional Republicans did not see the sweeping victories polling projected, but can still gain majorities in both chambers. While votes across the country are still being tabulated, the GOP is expected to earn a narrow majority in the House of Representatives. In the U.S. Senate, Republicans would need to win three out of four seats in Arizona, Georgia, Nevada, and Wisconsin to gain a majority. At publication time, Republicans appear poised to win in Wisconsin and Nevada and lose in Arizona. A runoff election in Georgia appears likely, meaning control of the Senate could come down to a Warnock-Walker runoff next month. Republicans capturing either chamber would hinder President Biden's ability to accomplish his priorities in the remainder of his term. New York reelected U.S. Senator Chuck Schumer, who is expected to be reelected as leader of his caucus.
3. New House representation for WNY. While longtime Congressman Brian Higgins was reelected handily, our region is sending two new representatives to Congress. Claudia Tenney, who previously represented Central NY in Congress, was elected in a district that includes Niagara County. Nick Langworthy was elected in a district that includes portions of Erie County and the Southern Tier.
4. State battles. Democrats maintained majorities in both chambers of the state legislature. In a battle between two incumbents for a northtowns State Senate seat, Sean Ryan defeated Ed Rath. Senators Tim Kennedy, Rob Ortt, Patrick Gallivan, and George Borrello were all re-elected handily. Assemblymembers Crystal Peoples-Stokes, Monica Wallace, Patrick Burke, Bill Conrad, David DiPietro, Michael Norris, Angelo Morinello, Jon Rivera, and Karen McMahon will all return to Albany.
5. Other important races. Mickey Kearns was reelected as Erie County Clerk. Statewide, Attorney General Letitia James and Comptroller Tom DiNapoli held on to their seats.
6. Environmental Bond Act passes. In a ballot referendum, New Yorkers overwhelmingly approved the Environmental Bond Act, which will authorize the state to issue $4.2B in bonds for investments in the environment. It includes $400 million for green building projects, efficiency, and renewable energy upgrades on state properties. It also includes $100 million for coastal rehabilitation and shoreline restoration projects. The BNP will communicate details with you as soon as these opportunities become available.
The BNP congratulates last night's winners and looks forward to working with all officials to improve our regional economy.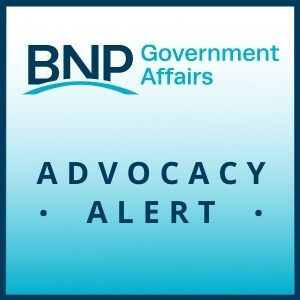 The New York State Legislature gaveled out for the final time of the 2023 legislative session. Although a special session is possible before the end of the year, no major legislative push is expected.
Although much of the most impactful legislation being debated was tabled until next year, many important bills were passed in the waning days of session.