BNP Advocacy Insider – July 2022
Hochul, Zeldin Earn Nominations
New York concluded its first round of primary elections. Republican Congressman Lee Zeldin is set to challenge Governor Kathy Hochul for her seat. Because of New York's messy handling of the redistricting process, primary elections for Congressional and State Senate seats will happen in August. 
Learn more on our blog.
The BNP has extended formal invitations to both campaigns to address our membership. Stay tuned for future event information as we draw closer to Election Day.  
New York Restricts Concealed Carry Rights
After a Supreme Court decision that struck down a New York law limiting concealed carry permits, the State Legislature convened for a special legislative session to respond. The Legislature passed a bill that adds restrictions to the permitting process and limits where concealed carry rights apply. Employers should be aware that the state banned carrying in "sensitive locations" and also requires employers to opt in to allowing carrying within their establishments. Learn more here.  
State Legislature Concludes 2022 Regular Session
The Legislature finished its Regular Session with a flurry of legislative activity, sending numerous bills to Governor Hochul's desk for review. Learn what moved and what did not in our End-of-Session Wrap Up. 
Coming Soon: Your Next Cost Increase
For the last year, the BNP has been warning state leaders about a looming increase in unemployment insurance rates. However, state leaders failed to heed the BNP's recommendations, so increases are expected soon. Learn more about this issue and how to prepare on our blog. 
Climate Comment Period Ends
The Public Comment Period for the Climate Action Council's Draft Scoping Plan closed on July 1. In addition to the BNP's own testimony, the BNP's grassroots campaign generated over 2,000 messages raising concerns with the plan.  
The Council will review these comments and develop a final Scoping Plan by January 1. The BNP will continue to monitor their work and advocate for affordable, reliable energy.   
ICYMI: BNP Hosts Capital Conversation on Redistricting
New lines, new representation. After New York finished its redistricting process, our representation in Albany and Washington may look different. What does redistricting mean for our region? We hosted experts Jack O'Donnell and Jerry Zremski to discuss it. Watch our Capital Conversation here.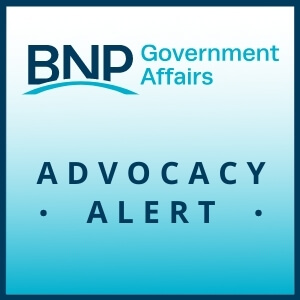 Blog Back to Our Blog Blog Categories This month, a new law regarding pay transparency will take effect in New York. All employers should prepare to comply with this law. Get answers to frequently asked questions below. What does the law require? The law requires employers to disclose the compensation (salary or wage) or range of compensation…