April 2022 Advocacy Insider
Lawmakers Finalizing State Budget 
This weekend, state lawmakers are finalizing the 2022-23 budget. The wide-ranging plan meets many community needs, but neglects others. The budget adds a steep application fee to the Brownfield Program, fails to protect employers from the looming unemployment insurance crisis, and does not adequately leverage the federal infrastructure investment. Read the BNP's full analysis here.  
Bills to Remain in Buffalo for 30 Years 
The Buffalo Bills, Gov. Hochul, and County Exec. Poloncarz announced a deal to construct a new Bills stadium. The deal includes a non-relocation agreement that will keep the franchise in our region for three decades. Public funds for the deal still must be approved by the New York State and Erie County legislatures.  
With COVID Cases Down, HERO Act Relaxed 
The Department of Labor quietly announced a change in pandemic safety regulations. Private-sector employers are no longer required to implement their HERO Act workforce safety plans. However, employers still have some obligations under the law even when workforce safety plans are not in effect. Learn more here. 
Hochul Signs Sexual Harassment Legislation 
Governor Hochul recently enacted a package of legislation aimed at reducing sexual harassment in the workplace. The most significant measure will create a confidential state hotline for the purpose of reporting workplace sexual harassment and connecting victims with legal resources. Learn more about this legislation and ways to prevent workplace harassment here. 
Empire Center: 'Sticker Shock' on Single-Payer 
A new report from the Empire Center for Public Policy highlights the steep costs associated with implementing a single-payer healthcare system. The report details the concerns that the BNP and employers have raised since the NYHA was introduced three decades ago. Learn more here. 
Buffalo Climate Hearing Coming This Month 
The Climate Action Council is hosting a round of public hearings on its Draft Scoping Plan. The plan (summarized here) will have wide-ranging impacts on our state economy. The plan recommends many far-reaching approaches, such as carbon pricing and bans on natural gas infrastructure. The BNP encourages members to contact the Council and lawmakers about this plan. If you would be willing to testify in person (Buffalo 4/27, Virtually 5/7 & 5/7), register here.   
Join the BNP for Advocacy Days 
Be a part of the Buffalo Niagara Partnership's advocacy day without leaving your desk. Join us for important conversations about issues central to Buffalo Niagara's future economic competitiveness with WNY elected officials, key stakeholders, and BNP members.  
On May 9, meet with Senate Minority Leader Rob Ortt to discuss maintaining affordability & reliability in climate action. On May 10, meet with Senate Transportation Committee Chairman Tim Kennedy to discuss how we can maximize the historic federal infrastructure investment. A third session to discuss childcare and its impact on workforce development is in the works.  
Use these links to register for our sessions on Energy Day and Transportation Day.  
Poloncarz Gives 2022 State of the County Address 
Last night, Erie County Executive Mark Poloncarz gave his 2022 State of the County Address. In the speech, Poloncarz discussed numerous planned investments, citing the County's strong financial position after posting a $150m revenue surplus in 2021.  
Poloncarz discussed the County's deal to keep the Bills in Buffalo; building ErieNET, a county-run broadband network; $25 million in grants for arts and cultural organizations; major investments in sewer infrastructure; creating an app to connect parents with mental health services, and purchasing 11,000 air filters to place in every classroom in Erie County.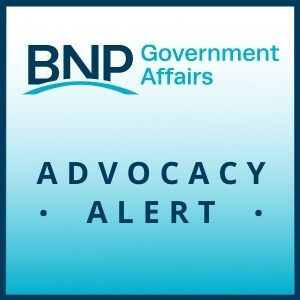 This afternoon, Gov. Kathy Hochul gave her State of the State address. In her speech, she outlined her vision for the upcoming legislative session. The Governor's wide-ranging agenda will touch each industry in some way.