Advocacy Alert: Albany's Busy New Year's
In the waning moments of 2022, Governor Hochul acted on multiple issues of importance.
Albany Gives Self Raise
The state legislature convened for a special session to give themselves a 29% raise – up to $142,000 annually. Governor Hochul supported the raise, stating that legislators deserve it because "they work extremely hard." The new salary is nearly double the state's median household income of $75,157, and will be higher than that of any other state. They did not use the extraordinary session to address any outstanding policy issues.
Hochul Acts on 2022 Legislation
Gov. Hochul began making decisions on the bulk of legislation passed in 2022.
The following bills were signed into law:
The following bills were vetoed:
A major workers' compensation expansion package. The BNP urged the Governor to consider these bills in aggregate, which would collectively result in a major increase in workers' compensation costs. The package includes the following bills:
Contract adjustments for state contractors who suffered from unexpected materials costs in March 2020. Hochul noted that this bill would result in significant expenses for which the state did not budget. This issue could be revisited during budget season.
A duplicative workforce reporting bill that the BNP opposed. 
On Thursday, the BNP will unveil its 2023 Advocacy Agenda. Don't miss it – register today!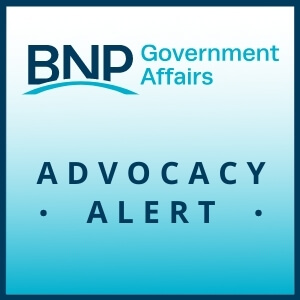 Blog Back to Our Blog Blog Categories This month, a new law regarding pay transparency will take effect in New York. All employers should prepare to comply with this law. Get answers to frequently asked questions below. What does the law require? The law requires employers to disclose the compensation (salary or wage) or range of compensation…