Introducing Elizabeth Woike-Ganga, finalist for the 2022 ATHENA Leadership Award
For more than 30 years, the Buffalo Niagara Partnership has been honored to produce the annual ATHENA Awards® to support, develop, and honor women leaders in Western New York.
This year, as we return to our in-person celebration on April 5, the BNP is pleased to introduce you to the finalists who have been selected for the 2022 ATHENA® honors. This includes the ATHENA Leadership Award® and the ATHENA Young Professional Leadership Award® as well as the ATHENA Organizational Award® to recognize one for-profit organization and one non-profit organization that inspire women in WNY.
We will bring you profiles of each finalist in the weeks ahead, leading up to the awards event.  Come back often to read the profiles and you'll learn what it means to be an Athena.
Celebrate all of the finalists at the LIVE event on April 5, 2022 at the Buffalo Niagara Convention Center.
The Buffalo Niagara Partnership is pleased to introduce you to 1 of 10 finalists in the ATHENA Leadership Award® category -Elizabeth Woike-Ganga, is President and Chief Executive Officer at BestSelf Behavioral Health, Inc.
Meet ATHENA Leadership Award® Recipient: Elizabeth Woike-Ganga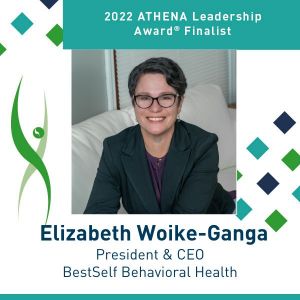 Elizabeth Woike-Ganga, LCSWR is President and Chief Executive Officer at BestSelf Behavioral Health, Inc. in Buffalo.  BestSelf is the largest not-for-profit community-based behavioral health agency in Western New York and provides a full continuum of person-centered, trauma-informed behavioral health treatment and recovery services.
After graduating with a BA from Yale University, Liz spent a year in Costa Rica on a Fulbright Scholarship followed by two years as a Peace Corps volunteer in Gabon, Central Africa.  Returning to Buffalo, Liz worked at Vive, Inc., an Organization for World Refugees, as Assistant Director while pursuing a Master of Social Work at SUNY Buffalo.
Liz started at Lake Shore Behavioral Health as an intern in 2002, was hired as a counselor in 2004 and was offered various promotions until joining the BestSelf in 2012 as Director of Chemical Dependency. She was promoted in 2014 to Vice President of Clinical Operations and then to Chief Operating Officer in November 2015. She became CEO in 2020.
We asked Elizabeth a series of questions to get to know her better.
First Job
Liz's first job was as a page at the downtown Buffalo public library at age 16.
Career Highlights
Liz says the implementation of the Certified Community Behavioral Health clinic model at BestSelf is one of many career highlights so far.  She notes that the CCBHC is the gold standard of comprehensive, accessible, high quality mental health and substance use disorder treatment services that help people to heal and improve their lives in a holistic manner.
Best Piece of Advice Given Regarding Her Career
It's ok to be your authentic self and bring that to the workplace.
Advice to Give to a Woman Just Starting in the Workplace
Be ready for opportunities when they arise.
About Being an ATHENA Finalist
"It is such an honor and truly humbling to be included among such an esteemed group of women leaders who are helping other women around Buffalo.  Women can play a key role at all levels of an organization in inspiring and supporting one another, thus lifting up entire communities.  I have had the privilege of excellent mentorship throughout my career, and I am thrilled to be able to continue that role with other women as I continue to grow and develop professionally."
 On Buffalo Niagara
 "I like the small town feel where there are two degrees of separation between most folks."
Favorite Spot in Buffalo
Delaware Park
Added Insights
Guilty Pleasure: A good Old Fashioned
Superpower: Remembering the faces and names of many BestSelf staff
My Friends Describe Me As: Passionate
Yearbook Superlative: Most likely to succeed
If I Could Swap Lives with Someone for a Day: I'd choose no one, I really love my own life!
Attend the ATHENA Awards® Luncheon
The ATHENA Awards® Luncheon is the region's most prestigious event recognizing the professional accomplishments of exceptional individuals who are dedicated to the advancement of women. Be there when the winners are announced.
Tuesday, April 5, 2022
11:00 a.m. to 1:30 p.m.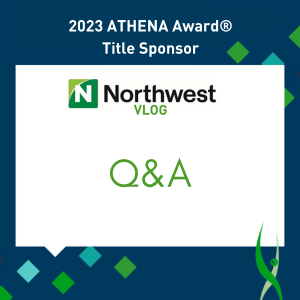 Not only is Northwest Bank the returning title sponsor for the 32nd Annual ATHENA Awards®, but their commitment to women in leadership is reflected in their daily operations.
Learn more in this video Q&A.