Introducing Minority-Owned Business Initiative Participant: Right Fit Recruiting, LLC
The Right Fit: Thaddeus Dunn sizes up the benefits of the BNP's Minority-Owned Business Program for his executive recruiting company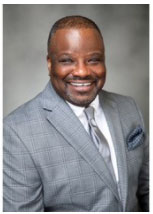 For more than two decades, Thaddeus Dunn has recruited and placed executive-level professionals in positions across the country, in industries from medical and financial to non-profit and education. Now, he has established Right Fit Recruiting, LLC here in Buffalo Niagara, bringing his expertise to the local business community with added measures of personalized service and a commitment to diversity and inclusion in executive roles.
Dunn is familiar with the Buffalo area from his days at Canisius College where he graduated with a degree in communications. He laughs when he says he thought he was going to be the next Irv Weinstein, Buffalo's legendary news anchor. But instead, Dunn took a position in recruiting with the Red Cross in Buffalo.
He found that he enjoyed the profession and moved on to recruiting nurses and doctors for a health system in his native New York City. From there he began executive-level recruiting for a global pharmaceutical company with offices in North Carolina, followed by similar roles for a behavioral health organization and a credit union. He eventually returned to Buffalo when he married his wife Maria, a nurse from the area, and he began Right Fit Recruiting, LLC.
As founder and CEO of Right Fit Recruiting, Dunn taps into all that combined experience to serve clients nationally and in Western New York where his client roster includes Key Bank, National Fuel, ECC, and Community Foundation for Greater Buffalo, among others.
I compare my work to being a detective – I know the right fit is out there for my clients; I just have to think outside the box to find them," Dunn says. "As I continue to cultivate meaningful relationships in our local business community, membership in the BNP will enable me to make even more connections."
Dunn and his company have been selected to take part in the BNP's Minority-Owned Business Program, a new initiative aimed at giving business owners greater access to BNP resources. Created with underwriting from Bank of America and National Grid, the program gives Dunn a two-year membership in the BNP. He is already participating in the BNP's Executive Exchange program, a peer-to-peer professional leadership development program in which he can interact with other executives to share experiences in the world of business.
"The Executive Exchange gives me a front seat with a panel of executives who can share knowledge and learn from one another," he explains. "As local executives, we are all committed to maintaining a vibrant business community in Buffalo Niagara and I can help with attracting top executive talent."
Dunn notes that his membership in the BNP also fits well with his focus on diversity, equity, and inclusion in the workforce during the recruitment process. The BNP's initiatives in DE&I, such as our annual Symposium and the D&I Academy, align with Dunn's own efforts to level the playing field for people of color.
"When I started over 20 years ago, there were not many people who looked like me in executive-level positions," he says. "My focus at Right Fit Recruiting is on equity and fair play so all the best candidates, including executives of color, are given an opportunity to compete for management and leadership positions."
In addition to leading Right Fit Recruiting, Dunn serves on the admissions committee for the Physician Assistant Department at Canisius College. He assists with the interview process for incoming PA students and helps the department develop fair and inclusive admissions practices.
Dunn also serves as Co-Chair and Vice President of Membership for the National Association of African Americans in Human Resources (NAAAHR), representing Buffalo and Rochester. The NAAAHR provides a unique global forum for the career development of Black and African American human resources professionals.
The Buffalo Niagara Partnership's (BNP's) Minority Business Initiative (MBI) strives to eliminate the obstacles that have long hindered minority business ownership by providing minority-owned businesses access to BNP's extensive resources and networks to build their business. The 2023 cohort was announced at today's DEI Symposium and includes two tracks to better serve participant needs. The MBI Program is funded through generous underwriting of Bank of America, National Grid, and the Buffalo Niagara Partnership.