BNP's Minority Business Initiative: Removing Barriers and Creating Opportunities –
The Minority Owned Business Initiative (MBI) is entering its second year in 2023.  This initiative seeks to help break through the barriers that have historically challenged minority business ownership and create a pathway to board membership for participants. By giving minority-owned businesses greater access to BNP's resources, the program's underwriters aim to help multiply the participant's accomplishments.
Our goal is to double the number of participants in 2023 due to the success of the program in 2022.
What can participants expect?
One of the key benefits of this program is that it allows instant engagement of the business owner into the fabric of the BNP and all that we offer. It is also an excellent opportunity for all employees of the participating organization, as they are entitled to member benefits.
Once accepted, business owners and their entire staff qualify for membership benefits. Plus, the business owner gains a seat in Executive Exchange. This program allows the business owner access to other business owners and high-level executives across a variety of businesses, industries, and professional services. This allows for personal growth and opportunities for critical conversations that affect their business.
How can you get involved?
Apply Yourself
Visit our website to get started.  Read about the program & past participants, and download the MBI Fact Sheet.  When you are ready, complete the application.
Refer A Business
We are encouraging all members to recommend a minority-owned business(s) for this program.  Take a look at your suppliers, associates, friends and family for potential companies that would benefit from this program.  Complete the application to apply on their behalf.
Consider Sponsorship
Bank of America and National Grid sponsored this program in 2022 and it is because of their support that this program is possible.
Want to discuss opportunities to sponsor this program in 2023?  Download the MBI Sponsorship Opportunities Flyer or contact Ann Brooker -ABrooker@thepartnership.org for details.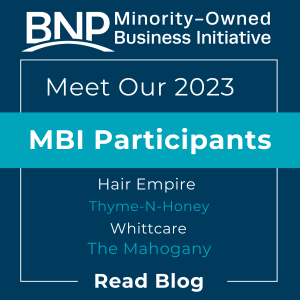 Blog Back to Our Blog Blog Categories Buffalo Niagara is home to a vibrant community of minority-owned businesses, and our Minority-Owned Business Initiative (MBI) is shining a spotlight on trailblazing professionals leaving an indelible mark on our regional business landscape. The MBI program provides minority-owned businesses access to the Buffalo Niagara Partnership's extensive resources and networks to build their business, removing…