6.15.21 BNP Advocacy Alert – 2021 NYS Legislative Session in Review
BNP Earns Numerous Advocacy Wins
As the 2021 state legislative session comes to a close, the BNP is proud of the many advocacy wins it earned this year. The BNP, on behalf of its members who employ over a quarter million people in the region, remains in frequent contact with lawmakers about legislation that would impact our regional economy. This year, the BNP was successful in its advocacy on:
For more about our 2021 Advocacy priorities, download our 2021 Advocacy Agenda Here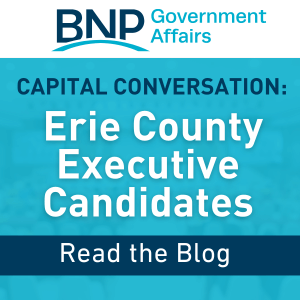 In preparation for the 2023 elections, the BNP hosted an Erie County Executive Candidate Forum. Both candidates for Erie County's highest office – incumbent Mark Poloncarz and challenger Chrissy Casilio – were given 45 minutes to address BNP members in a guided discussion.