2023 DEI Symposium: Meet Andrea Berki-Nnuji, Speaker
The BNP is pleased to welcome Andrea Berki-Nnuji, Sr. VP Data Analytics, Crowley Webb, as a speaker for the 2023 DEI Symposium.
We will be helping you get to know each presenter, panelist, and moderator in the weeks ahead, leading up to the 6th Annual D&I Symposium on June 1st – get your tickets here.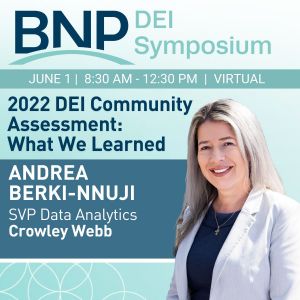 More about Andrea:
Andrea is an authority in data analytics and market research with more than fifteen years of experience across various industries including healthcare, financial, and education. Andrea began her workforce DEI journey at Crowley Webb with her advocacy for intentionally hiring a more diverse employee base. This drive for improving practices ultimately led to her helping create the agency's DEI committee. Andrea continues efforts to evolve and strengthen the committee with initiatives like Chroma which provides support to local, small, minority-owned businesses. Andrea's expertise also played an integral role in the planning and execution of the 2020 Western New York Diversity & Inclusion Business Community Assessment, which served as a benchmark of WNY's D&I progress, and she continues to be involved with this project today. 
2023 DEI Symposium Microsession: 2022 DEI Community Assessment: What We Learned
We'll discuss what the data means for our region's DEI efforts and effectiveness and how you can apply this information to your organization.
Presenters:
Andrea Berki-Nnuji, Sr. VP Data Analytics, Crowley Webb
Molly Chvala, SVP, User Experience, Crowley Webb
General
Attend the 2023 DEI Symposium
Our 6th Annual Diversity, Equity, and Inclusion Symposium will feature national experts on D&I sharing their knowledge on subjects such as building an inclusive culture, and the best practices, cultural assessments, and dimensions of diversity.
KEYNOTE: Sandra Quince, Paradigm for Parity CEO, Bank of America Leader on Loan
This event will feature workshops and break-out sessions with actionable next steps for attendees to take away.
Thursday, June 1, 2023
8:30 a.m. to 12:30 p.m. EDT


Register to Attend Here
See Full Event Details & Agenda Here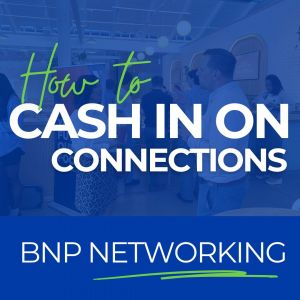 Whether you're an entrepreneur, a seasoned executive, or a budding professional, networking plays a pivotal role in your career growth. At the BNP, we understand the significance of forging meaningful connections, which is why we're excited to share the numerous benefits of networking with our members.