2023 DEI Symposium: Meet Stephen Tucker, Speaker
The BNP is pleased to welcome Stephen Tucker, President & CEO, Northland Workforce Training Center as a speaker at our 2023 DEI Symposium.
We will be helping you get to know each presenter, panelist, and moderator in the weeks ahead, leading up to the 6th Annual D&I Symposium on June 1st – get your tickets here.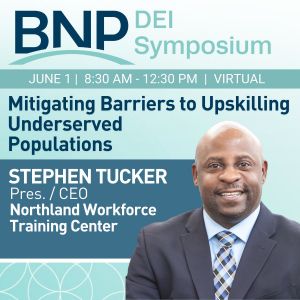 More about Stephen:
Stephen Tucker is the inaugural President & CEO of Northland Workforce Training Center in Buffalo, New York. He is responsible for the management, oversight and day-to-day operations of a new 90,000-square-foot facility focused on training and preparing Western New Yorkers for careers in advanced manufacturing and clean energy. Mr. Tucker, a veteran of the United States Air Force also previously served as the Assistant Executive Director with Partners for a Competitive Workforce and the Vice President of Workforce Development with the Urban League of Greater Cincinnati.  
His educational achievements include an MBA from Indiana Wesleyan University, a Bachelor's of Science Degree in Criminal Justice from Wilberforce University, and an Associate's Degree in Business Administration from the University of Cincinnati. Mr. Tucker is a 2008 graduate of the Urban League's African American Leadership Development Program, the 2009 recipient of the State of Ohio Martin Luther King Jr. Award for Economic Opportunity, a 2010 YMCA Black & Latino Achiever, and a graduate of National Urban League's Emerging Leaders Program. Stephen is also a Murano Fellow as a graduate of Aspen Institutes' Sector Skills Academy and an Adjunct Business Professor at Central State University and Cincinnati State. 
 Mr. Tucker was appointed to the Western New York Regional Economic Development Council in 2018 and received the Arthur O. Eve Award for Economic Opportunity presented by the New York State Association of Black and Puerto Rican Legislators in 2020. Mr. Tucker is a Commissioner with the Niagara Frontier Transportation Authority and serves on the Boards of the Buffalo Niagara Partnership, Buffalo Urban League, Leadership Buffalo, Independent Health Foundation, and Insyte Consulting. 
2023 DEI Symposium: Migitating Barriers to Upskilling Underserved Populations
Training Programs that Mitigate Barriers to Upskilling Underserved/Marginalized Populations
Presenter: Stephen Tucker, President & CEO of Northland Workforce Training Center
Advanced
Attend the 2023 DEI Symposium
Our 6th Annual Diversity, Equity, and Inclusion Symposium will feature local and national experts sharing their knowledge on hiring and retention, inclusive leadership, the importance of DEI data, and more.
KEYNOTE: Sandra Quince, Paradigm for Parity CEO, Bank of America Leader on Loan
This event will feature workshops and break-out sessions with actionable next steps for attendees to take away.
Thursday, June 1, 2023
8:30 a.m. to 12:30 p.m. EDT


Register to Attend Here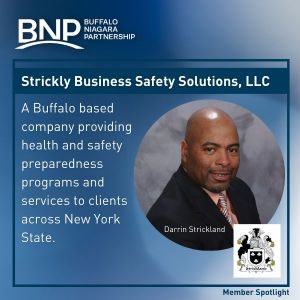 Darrin Strickland is the founder and CEO of Strickly Business Safety Solutions, LLC, a Buffalo-based company providing health and safety preparedness programs and services to clients across New York State. From authorized and certified CPR/AED training and workplace emergency preparedness, to defensive driving courses and babysitter certification, Strickland and his staff help businesses, schools, and individuals be safe and be ready in critical situations.