Understanding the Value of Visitors: The BNP Hospitality & Tourism Industry Leaders Forum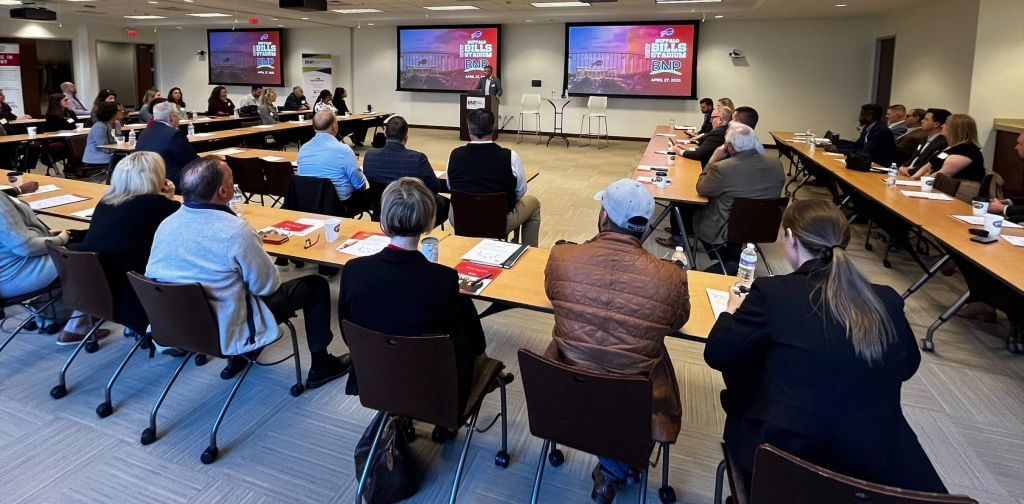 Building a positive visitor experience is a cornerstone of the Buffalo Niagara economy. Visitors to Western New York generated $2.7 billion in spending in 2021, according to an Oxford Economics Company report. Now more than ever, our hospitality and tourism sector is essential to the region's success. 
As the sector rebounds from the effects of the COVID-19 pandemic, how will we invest in capital projects and strategic marketing to maximize the power of every local, regional, and international dollar spent in Western New York? The April 27th  Hospitality & Tourism Industry Leaders Forum (ILF) brought a wide range of business owners and representatives together to discuss this important question.
Key Hospitality & Tourism ILF Topics 
Building the Future: The Buffalo Bills   

The Buffalo Bills are the quintessential Buffalo Niagara brand, and millions of people identify as Bills fans worldwide. The new Buffalo Bills Stadium, scheduled for completion in 2026, will be a local, regional, national, and international destination for a vibrant visitor experience.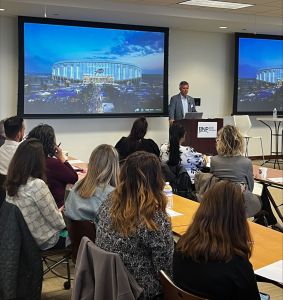 The Hospitality & Tourism ILF was joined by Ron Raccuia, Executive Vice President & COO of the Buffalo Bills and President ADPRO Sports, for an engaging presentation on how the new stadium will honor the Bills' proud football tradition, celebrate its fans and create regional economic development opportunities.  
The Future of the Industry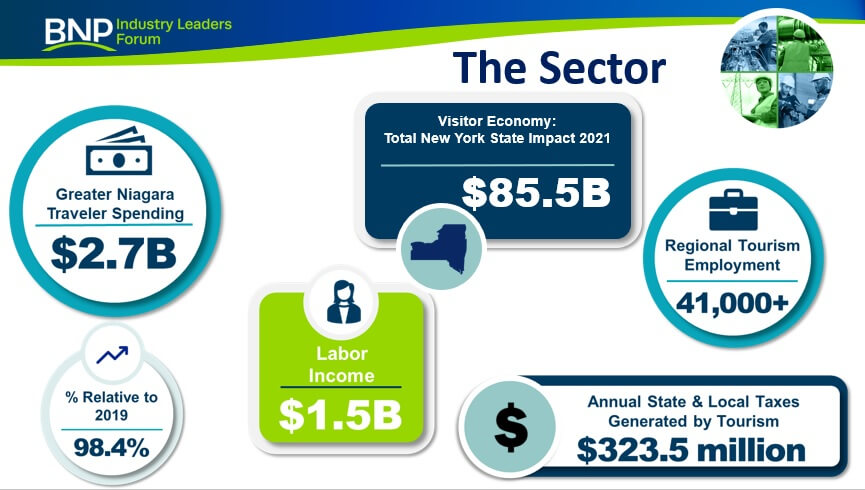 Western New York traveler spending in 2021 reached 98.4% of pre-pandemic levels signifying a strong rebound for the hospitality and tourism industry. It also employs over 41,000 people, representing 7.7% of total regional employment. The industry's future success as an economic engine and a leading employer will be largely determined by the region's marketing strategy.  
The Hospitality & Tourism ILF was joined by Patrick Kaler, President & CEO of Visit Buffalo Niagara, and John Percy, President & CEO of Destination Niagara USA, for a conversation on the economic impact of tourism and the future of binational travel.  
As international travel continues to recover, a new trend of experiential and nature-based tourism is emerging. Visit Buffalo Niagara shared the new video below, highlighting our region's year-round outdoor recreation options. Both Visit Buffalo Niagara and Destination Niagara USA will continue to market experiential destinations in ongoing and upcoming marketing campaigns.   
The Hospitality & Tourism ILF is one of nine created to discuss the status of business in the sector by sharing data and plans for the year and beyond. Once the meetings have been completed, BNP will convene a 2023 Economic Development Summit in December including participating members from all of the industry sectors. Learn more about the new BNP Industry Leaders Forum here.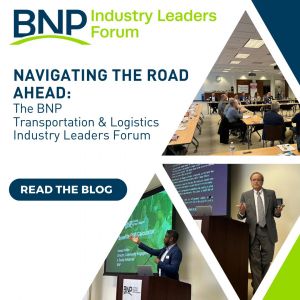 Exploring the Need for Regional Transportation Network Improvements & Advancements in Global Logistics