2023 DEI Symposium: Sandra Quince – Keynote Sneak Peek
We're thrilled to welcome a nationally-recognized voice in the DEI field to deliver our Keynote Address at the 6th Annual DEI Symposium on June 1st.
Meet Sandra Quince, Paradigm for Paradigm CEO, Bank of America Leader on Loan 
Sandra's appearance is generously underwritten by  

Thanks to the support of DEI Symposium Sponsor Bank of America, Sandra Quince will be joining us to discuss Elevating Your D&I Impact in the Workplace.
Recent studies have shown that 75% of people looking for roles want to work for organizations with a diverse workforce. From talent acquisition and retention to setting measurable inclusion goals, there is a growing need for organizations of all sizes and types to take action and implement practical solutions to create more inclusive, equitable workplaces.
In her Keynote, Sandra will address some of the most pressing diversity and inclusion challenges facing organizations in today's evolving business landscape. She will speak to current trends as well as look ahead to 2024 and beyond, particularly as Gen Z, the most ethnically and racially diverse generation, enters the workforce. Sandra will share her insights and provide strategies designed to help alleviate challenges for private and non-profit sectors alike.
Hear from Sandra below! 
Throughout her career, including over 15 years of experience in Human Resources, Sandra has driven work efforts in diversity and inclusion, talent management, and learning and development across multiple organizations and industries. At Bank of America, Sandra delivered global D&I strategy, with a focus on growing diverse representation of the workforce,
promoting an inclusive workplace where all employees can achieve their goals and meet the needs of customers.
Sandra was selected as one of 50 Black women for the Goldman Sachs One Million Black Women Impact Grant. She was recently voted one of the year's most inspiring diversity and inclusion leaders in the d&I Leaders Global Benchmarking Survey 2022, as well as named to The Journal Record's 50 Making a Difference list of honorees for 2021. A prominent voice in the DEI field, Sandra has also been featured in Essence, Insider, CEOWORLD Magazine, and Fast Company and interviewed on FinTech TV, BBC and Bloomberg Radio. 
This is a can't-miss opportunity for business leaders, DEI practitioners, and all interested professionals who want to stay ahead of the curve and learn how to create a workplace that is inclusive and equitable for all. Don't miss out on the chance to join us and learn from the best in the industry!
You can register to attend the 2023 DEI Symposium individually or as an organization.
Attend the 2023 DEI Symposium
Our 6th Annual Diversity, Equity, and Inclusion Symposium will feature local and national experts sharing their knowledge on hiring and retention, inclusive leadership, the importance of DEI data, and more.
KEYNOTE: Sandra Quince, Paradigm for Parity CEO, Bank of America Leader on Loan
This event will feature workshops and break-out sessions with actionable next steps for attendees to take away.
Thursday, June 1, 2023
8:30 a.m. to 12:30 p.m. EDT
Register to Attend Here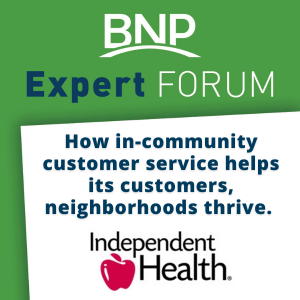 More than ever, healthcare organizations must connect customers with services that provide value, while understanding their concerns on a local level. Superior customer service can support everything from business retention to brand promotion and improved access to healthcare options.
Read More