Comptroller: "Duplication" in State Workforce Efforts
New York State Comptroller Tom DiNapoli recently released a report assessing the state Department of Labor's workforce development efforts. The report found significant overlap, duplication, gaps, and fragmentation in state workforce development programs and services.  
The audit found that New York offers over 500 workforce development programs and services, administered by 22 state agencies and authorities. DiNapoli said that the vastness of the system, combined with the "absence of a functioning" workforce investment board, the state "may not be adequately considering the needs of job seekers and employers," rendering the state "inadequately positioned to address the State's workforce needs." 
The ability to find and retain qualified talent is the top concern of BNP members.  
The Comptroller's report made several recommendations for improvements, beginning with adequately staffing the state workforce investment board. DiNapoli also recommended that the state take concrete steps to reduce "overlap, duplication, gaps, and/or fragmentation" in workforce development programming.  
The BNP was encouraged by provisions in this year's state budget that give Regional Economic Development Councils a greater ability to oversee and coordinate workforce development efforts within their respective regions. The BNP will continue to advocate for better coordination of workforce development efforts to better serve employers and workers.  
Read the Comptroller's report here.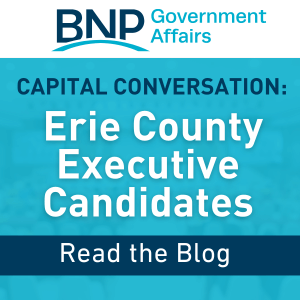 In preparation for the 2023 elections, the BNP hosted an Erie County Executive Candidate Forum. Both candidates for Erie County's highest office – incumbent Mark Poloncarz and challenger Chrissy Casilio – were given 45 minutes to address BNP members in a guided discussion.