2022 D&I Symposium: Meet Trina Burruss, Featured Speaker
The BNP is pleased to welcome Trina Burruss, COO, United Way as a featured speaker at our 2022 D&I Symposium: DEI at Work.
We will be helping you get to know each presenter, panelist, and moderator in the weeks ahead, leading up to the 5th Annual D&I Symposium on June 16th – get your tickets here.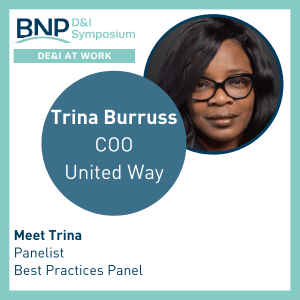 Presentation Highlights (what can the audience expect to learn or take away?): I would like to
provide real-life examples of starting/leading DEI efforts within organizations both for-profit and nonprofit.
D&I Resources, Recommendations, & Inspiration
Book: The Color of Law Richard Rothstein
Person: Too many to list..I am a continuous learner.
Other Media (podcast, show, social, publication – United Way 21 Day Racial Equity Challenge
Advice for someone starting, or continuing, on their D&I journey: It's important to ensure that
your company is aligned and in agreement with your vision and intent.
2022 D&I Symposium: Best Practices Panel
This panel will provide insight into efforts organizations that leading organizations in our region have taken taking to produce the greatest steps forward in creating an environment of diversity, equity and inclusion. This discussion will share insights from D&I leaders who are leading the charge in our geographical area, and steps to take to make a "real" difference.
Moderator:
Panelists:
Cynthia Bass, CDO, ECMC
Trina Burruss, COO United Way
John Somers, President & CEO Harmac Medical
Bio:
Trina Burruss is a dynamic community leader committed to excellence through collaboration and a true Buffalo booster!
After a 31 year banking career with several banks across our region, Trina accepted the position of Chief Operating Officer with the United Way of Buffalo and Erie County. In this role, she is charged with overseeing all of the community impact activities, developing sustainable resources that support local agencies and direct programming for the United Way. Additionally, Trina will lead diversity equity and inclusion initiatives both internally and the community at large.
Prior to joining the United Way, Trina was Senior Vice President & District Manager for Northwest. In this capacity Trina combined her passion for retail banking and helping the community. Her territory included 100 direct reports and over $1 billion dollars in deposits. Trina was also successful in developing an inclusion strategy for the entire bank. Setting the stage for future staff development and continued business development.
Through her efforts in the community Northwest opened a new branch office on the east side of Buffalo; the first standalone bank branch built on the east side in a generation. A strong believer in collaboration, Trina led a partnership with Belmont Housing to open a Financial Education Center on Jefferson Avenue. The center is designed to provide financial coaching, workshops and access to computers to complete job applications online. Trina also had oversight of the Foundation dollars and marketing budget for NYS. Trina is also responsible for the $102 million community benefits agreement.
Throughout her career, she has been heavily involved in the Buffalo community. Trina currently serves on the Board of Directors for Say Yes, Buffalo Urban Development Corp, Leadership Buffalo and is the Board Chair of the Foundry. For her work, inside and outside of the workplace, Trina has received numerous awards and accolades, including Branch and Branch Manager of the Year, Black Achiever Award, Community Service Banker, Diversity Award and Sales Excellence Club and was named one of Buffalo's Most Powerful Women by Buffalo Business First two years in a row.
Trina received her bachelor's degree in business administration from Medaille College and her master's degree in executive leadership and change from Daemen College. In 2020, Trina completed a certificate program, Diversity & Inclusion from Cornell University.
Trina lives in Buffalo with her husband of 34 years, Cedric. They have four children and are also proud grandparents of four.
Attend the 2022 D&I Symposium
Our 5th Annual Diversity & Inclusion Symposium will feature national experts on D&I sharing their knowledge on subjects such as building an inclusive culture, and the best practices, cultural assessments, and dimensions of diversity.
KEYNOTE: Melissa Donaldson, Chief Diversity Officer, Wintrust.
This event will feature workshops and break-out sessions with actionable next steps for attendees to take away.
Thursday, June 16, 2022
9.30 a.m. to 4:00 p.m. EDT


Register to Attend Here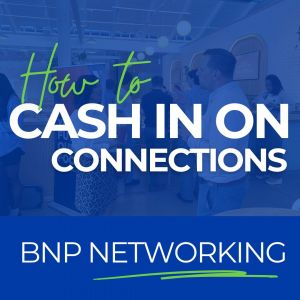 Whether you're an entrepreneur, a seasoned executive, or a budding professional, networking plays a pivotal role in your career growth. At the BNP, we understand the significance of forging meaningful connections, which is why we're excited to share the numerous benefits of networking with our members.