2022 D&I Symposium: Meet Erin O'Brien, Panel Moderator
The BNP is pleased to welcome Erin O'Brien, Assistant Dean, Chief Enrollment and Marketing Officer, UB School of Management as a featured speaker at our 2022 D&I Symposium: DEI at Work.
We will be helping you get to know each presenter, panelist, and moderator in the weeks ahead, leading up to the 5th Annual D&I Symposium on June 16th – get your tickets here.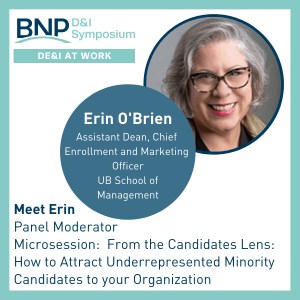 Bio:
Erin K. O'Brien is currently Assistant Dean, Chief Enrollment and Marketing Officer at the University at Buffalo School of Management. Ms. O'Brien is the senior leader in the school responsible for defining and leading a comprehensive, coordinated strategy including marketing, enrollment-focused program and partner development, student outreach, recruiting, admissions and all operations and technology to support and advance the goals of the School relative to undergraduate, transfer, graduate, international, executive and hybrid/online students. Prior to her shift to higher education, Ms. O'Brien has an extensive career in the tech sector, working for IBM in technical and financial solutions for Fortune 500 clients all over the world.
She has appeared in or been quoted in news outlets such as Bloomberg Businessweek, the Boston Globe, PR News, the Buffalo News, Business First, WGRZ, WIVB, and Spectrum News, and has had publications in GME Today & Tomorrow, Diverse Issues in Higher Education, and AACSB Biz Ed. Her outstanding contributions to the University at Buffalo have been recognized with a SUNY Chancellor's Award for Excellence in Professional Service.
Ms. O'Brien is currently a PhD in Management (A.B.D.) with a focus in management science and systems. She is the recipient of an executive certificate from the University of Pennsylvania Wharton School of Business, a Class of 2000 MBA graduate from the University at Buffalo School of Management, a 1997 cum laude graduate of the University at Buffalo with a Bachelor of Arts in Psychology, and a 1986 graduate of The Buffalo Seminary.
2022 D&I Symposium Speaking Topic: From the Candidates' Lens: How to Attract Underrepresented Minority (URM) candidates to your organization
You may unknowingly be excluding a vast talent pool. 
How can employers prepare their organizations to attract and retain URM candidates and employees?   
Join a candid discussion with the UB School of Management for a special panel discussion featuring current students preparing to enter the workplace. 
Presenter(s):
Erin O'Brien, Assistant Dean, Chief Enrollment and Marketing Officer UB School of Management
Panelists:
Students from UB School of Management
Beginner to Intermediate level
Attend the 2022 D&I Symposium
Our 5th Annual Diversity & Inclusion Symposium will feature national experts on D&I sharing their knowledge on subjects such as building an inclusive culture, and the best practices, cultural assessments, and dimensions of diversity.
KEYNOTE: Melissa Donaldson, Chief Diversity Officer, Wintrust.
This event will feature workshops and break-out sessions with actionable next steps for attendees to take away.
Thursday, June 16, 2022
9.30 a.m. to 4:00 p.m. EDT


Register to Attend Here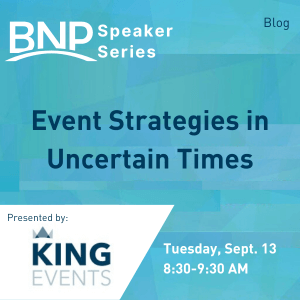 Event organizers have been left questioning whether their events should go back to being in-person, remain virtual or become something in between. How do you make that decision, especially when there is still so much uncertainty? All events are unique, but the most important thing to do is to consider your audience and be prepared to pivot if you need to. Here are a few tips to help get you started.