Molly Booi, 2022 BN360 Spotlight Professional
The Buffalo Niagara Partnership is pleased to present the 2022 BN360 Spotlight Professionals.
Each year, BN360 highlights up-and-coming young professionals who strive for professional growth and development, care for their community, and are passionate about the future of the Buffalo Niagara region.
Molly Booi
Supervising Senior Associate  | Tronconi Segarra & Associates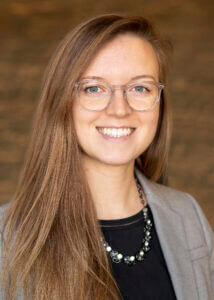 In May 2021, Molly accepted a position at Tronconi Segarra & Associates to work with the Firm's Transaction Advisory Services team and received a promotion after only six months in her role. From passing all four parts of the CPA exam while still in college, to her career accomplishments and philanthropic endeavors to date, Molly has clearly demonstrated her desire to leverage her ever-expanding knowledge base, her energy, her enthusiasm, and her "nothing is impossible" approach to life to serve others.
As a Supervising Senior Accountant, she is a role model for Tronconi Segarra & Associates' staff accountants and works diligently to complete all of her projects while also helping to coordinate and manage the engagements, and the staff working on them, to which she is assigned. Molly's drive and commitment for her career advancement carry over to her passion for helping others in our community, where she actively supports a number of organizations through fundraising as well as volunteering her time.
First Job:
Waitressing at Fatman's Pizza in Tonawanda. 
Greatest Professional Win:
Being awarded Buffalo Business First's 30 under 30 award this year. 
Best Piece of Professional Advice:
Always keep an open and curious mind set. Never be afraid to ask for help and ask again until you understand…and write everything down when you do!  
Community Engagement:
Buffalo Club Ultimate Frisbee, member 

 

Buffalo C.A.R.E.S. Animal Rescue, volunteer

 

Participant in various walks/runs, including the Summit Center's Autism walk (planned May 2022), Michael J. Fox Foundation (planned June 2022), and Making Strides Against Breast Cancer (past participant), among others

 
Thoughts on Living, Working, and Playing in Buffalo Niagara:
It has been amazing watching and being a part of the re-birth of Buffalo over the past several years. In the city of good neighbors, you truly get back what you put in…plus some.  
On Being a BN360 Spotlight Professional:
The recognition is a really great feeling, but most importantly, it has served as a reminder of how grateful I am to my family, friends and colleagues (both past and present) that have challenged, redirected, and helped me grow both personally and professionally.
2021 Takeaway:
That your mental health should always be put above any job, relationship, or other commitment… Learning how to set and enforce boundaries in order to protect it and (most importantly) being unapologetic about it.  
The Pandemic's Career Impact:
I think it's shown that we can be just as productive and connected even in a fully remote environment. However, I've learned that the hybrid model, with the flexibility to choose when you work remotely or in the office, is my most preferred work environment.  
Top 5 Favorites:
Best Buffalo-Niagara Hidden Gem: 

Niawanda

 Park

Favorite Mural: 

Keep Buffalo a Secret

Go-to Buffalo Food

: 

Sponge Candy

Best Buffalo Activity/Hobby: 

Going to a 

Buffalo Bill's tailgate

… Go Bill's!

Place you would take someone new to Buffalo

: 

Canalside / the Outer 

Harbor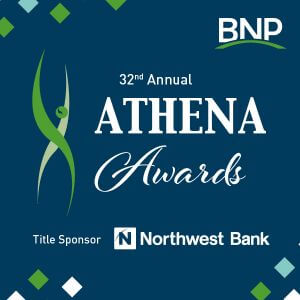 The Buffalo Niagara Partnership is pleased to announce the individual finalists for the 2023 ATHENA Leadership and Young Professional Leadership Awards®.  The awards recognize contributions made by women leaders that show professional excellence and advance the status of women throughout the Buffalo Niagara region.