2022 D&I Symposium: Meet Kelly Dumas, Panelist
The BNP is pleased to welcome Kelly Dumas, Chief Operating Officer, BestSelf Behavioral Health as a Panelist at our 2022 D&I Symposium: DEI at Work.
We will be helping you get to know each presenter, panelist, and moderator in the weeks ahead, leading up to the 5th Annual D&I Symposium on June 16th – get your tickets here.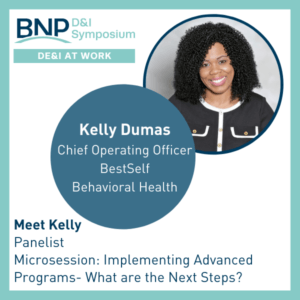 Presentation Highlights (what can the audience expect to learn or take away?):  Why it's important to be specific in identifying and addressing race equity in your diversity goals.  How to be intentional in this work and sustainability
D&I Resources, Recommendations, & Inspiration
Book White Fragility by Dr. Robin D'Angelo; So You Want to Talk about Race by Ijeoma Oluo; I'm Still Here by Austin Channing Brown
Other Media (podcast, show, social, publication): Podcasts: Unlocking Us- Brene Brown; Still Processing; Read articles- The Curb Effect by Angela Glover Blackwell; A Gardener's Tale by Camara Phyllis Jones
Advice for someone starting, or continuing, on their D&I journey: The D & I journey is just that, a journey. Viewing this work as a destination to arrive to will only result on frustration. There will always be more to learn and opportunity to grow in this work.
About Kelly
Short Bio:
Kelly D. Dumas, LCSW is a licensed clinical social worker and has over 19 years of experience working in human services. Kelly is currently employed with BestSelf Behavioral Health in Buffalo, NY where she is the Chief Operating Officer. In her role as Chief Operating Officer she provides administrative and clinical oversight to all agency programs, including more than 1100 staff with a budget of $90+ million. As Chairperson of the agency's Racial Equity and Inclusion Committee, Kelly spearheads critical initiatives that continue to make BestSelf a leading employer in Western New York. Kelly earned her Master's Degree in Social Work from the University at Buffalo and her Bachelor of Arts Degree in Psychology and English from Emory University. Kelly is also an adjunct professor at UB School of Social Work. She enjoys singing- particularly praise and worship, reading, and spending time with her husband, Reggie, and two children, Denise and Dennis.
2022 D&I Symposium Speaking Topic: Implementing Advanced Programs- What are the Next Steps?
Congratulations. You've delved into the D&I basics, Microaggressions, and Unconscious Bias…but what do you do next?  
How do you elevate your efforts or take your organization to the next level? 
This session will explain the value of intentionality, belonging, and equity to make a real difference in the approach of your D&I efforts 
Panel Moderator:
Panelists:
Kelly Dumas

, 

Chief Operating Office, 

Best

Self

 

Behavioral Health

Mike Cavanaugh, VP of Human Resources, Try-It Distributing
Advanced level
Attend the 2022 D&I Symposium
Our 5th Annual Diversity & Inclusion Symposium will feature national experts on D&I sharing their knowledge on subjects such as building an inclusive culture, and the best practices, cultural assessments, and dimensions of diversity.
KEYNOTE: Melissa Donaldson, Chief Diversity Officer, Wintrust.
This event will feature workshops and break-out sessions with actionable next steps for attendees to take away.
Thursday, June 16, 2022
9:30 a.m. to 4:00 p.m. EDT


Register to Attend Here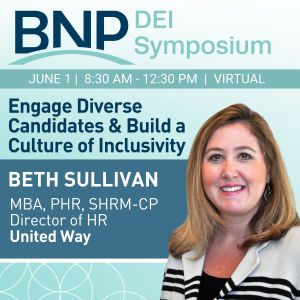 The BNP is pleased to welcome Beth Sullivan, MBA, PHR, SHRM-CP, Director of Human Resources at United Way of Buffalo & Erie County, as a panelist for the 2023 DEI Symposium. We will be helping you get to know each presenter, panelist, and moderator in the weeks ahead, leading up to the June 1st event.