4.12.22 Webisode: Employing Refugees – How Employers Can Tap into WNY's Growing Talent Pool
About this Webisode:
Buffalo Niagara continues to welcome refugees from around the world. Many of our newest neighbors come to WNY with skills and experience and are prepared to become a valuable part of your workforce.
Join the Buffalo Niagara Partnership in this webisode to learn more about how refugees are a pool of untapped talent that could help solve some of your labor challenges. Many regional employers have a long track record of successfully employing refugees and it may be good fit for you, too.
While open to all employers, this information is targeting the following industries/job categories given the skill set, education, and interests of WNY's newest refugees:
Manufacturing
Healthcare
Accounting
Business Administration
IT
Engineering
The program features staff from the International Institute of Buffalo who work alongside the other refugee resettlement agencies in WNY to help connect the people they serve to employers.
Watch:
View or download the presentation slides here.
Below is contact information you can use to connect with local resettlement agencies to discuss tapping into this talent pool.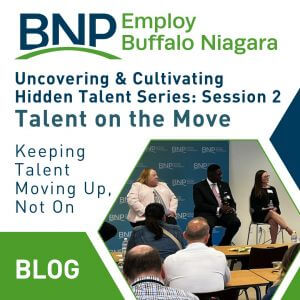 Uncovering and Cultivating Hidden Talent Series: Session 2 – Talent on the Move
Keeping and growing talent is key to any high-performing organization. But what can you do to keep employees from walking out your door for new opportunities?