2022 D&I Symposium: Meet Rhonda Frederick, Featured Speaker
The BNP is pleased to welcome Rhonda Frederick, CEO of People Inc. as a featured speaker at our 2022 D&I Symposium: DEI at Work.
We will be helping you get to know each presenter, panelist, and moderator in the weeks ahead, leading up to the 5th Annual D&I Symposium on June 16th – get your tickets here.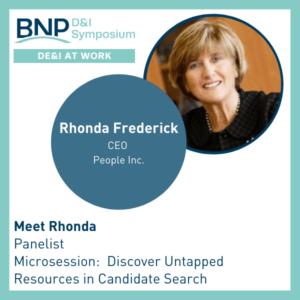 Rhonda has been working with disabled people for over 40 years and couldn't think of a better field to be in.  She wants to spread the word that the people she works with each and every day are just like everybody else.
She says, "Everybody is unique. Everybody learns a little differently.  Everybody has different strengths and deficits.  Our clients are just people and people want jobs.  They want to be fulfilled and recognized.  I can't tell you how many folks that I know, who just want to work.  They want to be given an opportunity and will run with it."
BIO:
Rhonda serves as the President & CEO of People Inc.  She began in an entry-level position in 1980 and steadily moved up the ladder.
Rhonda's work both at People Inc. and in the community has had a major impact on people with disabilities.
2022 D&I Symposium Speaking Topic: Discover Untapped Resources in the Candidate Search
Respond to your recruitment needs in a way that you might not have considered.  Take an in-depth look at how your answer to filling those positions are right in front of you. Learn how to utilize the power of creating inclusivity by filling positions through developmental disability/refugee candidates.
This discussion will be moderated by: Michele Mehaffy, Buffalo Consumer Affairs Manager, Wegmans
The session will feature panelists:
Get Rhonda's perspective on Candidate Search in this 1-minute video
Attend the 2022 D&I Symposium
Our 5th Annual Diversity & Inclusion Symposium will feature national experts on D&I sharing their knowledge on subjects such as building an inclusive culture, and the best practices, cultural assessments, and dimensions of diversity.
KEYNOTE: Melissa Donaldson, Chief Diversity Officer, Wintrust.
This event will feature workshops and break-out sessions with actionable next steps for attendees to take away.
Thursday, June 16, 2022
9:30 a.m. to 4:00 p.m. EDT


Register to Attend Here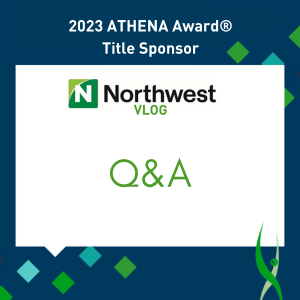 Not only is Northwest Bank the returning title sponsor for the 32nd Annual ATHENA Awards®, but their commitment to women in leadership is reflected in their daily operations.
Learn more in this video Q&A.