12.17.21 Advocacy Alert: Canada to Again Require Testing for Entry
Today, Canadian officials announced they would be reinstating a requirement that all entrants present proof of a negative COVID-19 test.  
The requirement will take effect Tuesday, according to the Buffalo News.  
After an outcry over the strict requirement, which made travel to Canada cost-prohibitive for some, Canada relaxed the testing requirement for short trips just a few weeks ago. However, citing rising concerns about the Omicron variant, Canada will again require proof of testing. 
Only PCR tests – not "rapid" tests – will be accepted by the Canadian government.  
Full border crossing information from the Canadian government is available here, although it was not updated to reflect this announcement before this blog's publishing.  
To find a test site near you, visit here.  
The BNP continues to urge leaders on both sides of the border to adopt reciprocal border crossing policies that maximize the flow of traffic between our nations. We will continue to keep you posted as this develops.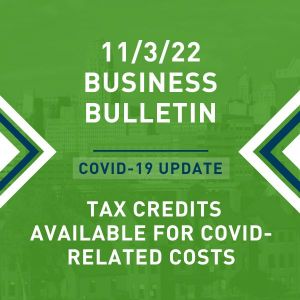 Small businesses can now apply for a new tax credit to help offset COVID-19 costs. The $250 million COVID-19 Capital Costs Tax Credit Program will cover up to 50% of eligible expenses, for a maximum benefit of $25,000.