Manufacturing Council Meeting 10/7/21
BNP's Q4 Manufacturing Council meeting focused on the New York State Climate and Community Investment Act's potential impact on the manufacturing sector. We were joined by NYS Senate Minority Leader Rob Ortt and Donna DeCarolis, President of National Fuel Gas Distribution Corp.
This meeting also covered upcoming federal vaccination regulations for employers, ongoing BNP workforce development efforts, and an advocacy update on issues that directly impact Buffalo Niagara employers.
View the presentation slides here.
Watch the full webisode here: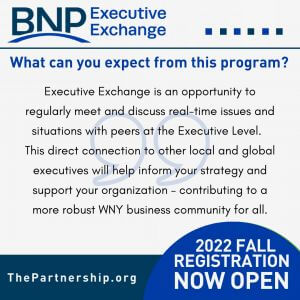 The Buffalo Niagara Partnership's unique Executive Exchange Program is an opportunity for leaders at the top of their fields to reach greater heights of Executive Development. If you are a senior-level business leader ready to benefit from a circle of trusted peer advisors, the Executive Exchange Program is for you.
Read More